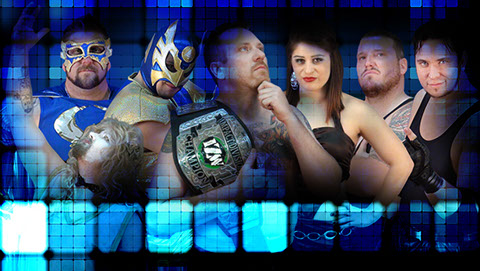 Back for our second look at the Power Rankings in IZW. With March Mayhem coming up on March 23, a new broadcast deal with The Comcast Network to air IZW Adrenaline on a bi-weekly basis, and the weekly, live IZW episodic series on GFL.tv every Saturday night at 8:00pm EST, IZW is in its own stratosphere, offering more weekly and monthly fresh content than any other Independent organization in North America. This would only be possible with a deep roster and IZW has assembled a plentiful locker-room with a host of talented, hungry wrestlers ready and willing to change the wresting business. Here are 6-10 in the TOP 10 IN IZW.
6. Impact Division Champion, Johnny Z
Johnny Z is the newly minted IZW Impact Division Champion after defeating Damien Morte recently in an Impact Rules Match, his first singles title ever in IZW. No other man, woman or child will ever mean more to IZW than the founder and owner, "The Natural Born Leader" Johnny Z. Z has his fingerprints on everything IZW-related. Not only is Z one of the premier wrestlers in the territory, but his contributions to IZW and his legacy within the professional wrestling business at large will be because he took IZW from just another run of the mill, local wrestling organization and transformed it into North America's #1 independent promotion. Business is booming in Lawton, Oklahoma and a substantial percentage of that credit has to go to Z who even though he runs his operation out of Oklahoma, has also been able to cut strategic business deals that have taken the IZW brand to the farthest reaches of the world with the partnership of GFL.tv. Now Z has landed another blockbuster broadcast deal that has IZW Adrenaline airing bi-weekly on The Comcast Network (TCN) available to over 5.5 million people across the North East and Mid-Atlantic regions.
7. Madam Commissioner Erica
The Leader of Impact Elite, Lady of Impact, Queen of IZW, Madam Commissioner, Erica has a host of titles and that's because she is an essential part of IZW. A high school and collegiate wrestler, with international experience and dozens of championships, Erica has one of the strongest pedigrees of anyone to lace up a pair of wrestling boots in this business. She also parlayed her wrestling success into a productive run as a MMA fighter before finding her true calling in the squared circle. Erica has ruled IZW with an iron fist since July 2012. In that time, Impact Elite has dominated and tormented most of the roster and put the fear of God in lesser wrestlers compelling them to run away from IZW and take cover in smaller, weaker organizations, rather than take on her and her stable. When was the last time Erica wrestled? When was the last time she needed to? It's been a while and that's because she's proven beyond a shadow of a doubt that she is the alpha female in the company. In a sport that is dominated by big, tough, dangerous men, Erica has had to be even more shrewd and treacherous than most to keep her spot as the boss and leader of Impact Elite. Erica has shown that there is not a line she won't cross to accomplish here goals. Whether that's betraying her one-time best friend Double D, backstabbing Johnny Z in a steel cage, or torturing the IZW roster with her unique brand of justice (dished out by Impact Elite), Erica is not afraid to use bullying tactics to accomplish her goals.
8. Tag Team Champions, Birds of Prey (Phoenix & Falcon)
The Birds of Prey hit Impact Zone Wrestling like a twister, obliterating and destroying anything in their way. Both Phoenix and Falcon have yet to lose a match in their IZW tenure and have won championship gold in their first few matches. The Birds exhibit phenomenal strength mixed with high flying acrobatics that have proved to be a deadly combination for anyone standing in their path. But is there more to the story? Is there more than meets the eye? Both Phoenix and Falcon are shrouded in mystery and their origins are still fuzzy. Where do they get their uncanny strength from? How long have they been a tag team? Who are the faces hidden behind those blue and gold masks? When it comes to the Birds, there are more questions than answers. But one thing you can't question is results. The Birds of Prey are a trailblazing duo that has turned the IZW Tag Team Division on its ear.
9. Big Business ("The Big Picture" Damon Windsor & "The Image of War" Kevin Morgan)
The biggest threat to The Birds of Prey are no doubt Big Business. Big Business are former Tag Team Champions and no other duo has the raw power to equal the Birds in the squared circle. Windsor's strength is only matched by his intellect as he's a thinking man of the highest order. Windsor has been able to reign in his tag team partner, the highly volatile former IZW Champion Kevin Morgan, who has been known to go off halfcocked at times, destroying anyone and anything in his path. Morgan was once the most feared big man in the territory and put together a winning streak that is likely never to be matched by anyone in IZW ever again. Windsor has been able to harness the raw power of Morgan and mix it with his own devastating style. Big Business is more than just a great tag team as they are the muscle of Impact Elite. The bark behind the bite. They have Detonated their way through nearly every tag team in IZW and left a trail of broken bodies in their wake as visual proof. As singles wrestlers, Windsor and Morgan are a tough match up for anyone in the world, but as a tag team, they are almost unstoppable.
10. "The Brass Bull" IZW Wrestler
There have been tons of superstars that have wrestled in the Impact Arena and have torn down the house, but none have done it with the specific panache and charisma of IZW Wrestler. After months of embarrassment and humiliating circumstances, Starr has finally stepped out of the shadow of his mentor "The Bronze Bull" Aaron Neil and Impact Elite and now has an opportunity to prove that he is more than an apprentice or afterthought. Starr is finally showing some of the fight that was branded and seared into his core as a child when he fought cancer as a youth and beat it. Starr has been on a tear lately, everything from taking on Impact Elite single handily to fighting side by side with Double D against the evil forces that permeate IZW. The five-year pro is in the midst of a career boom and Starr is only picking up more steam. The biggest match of his career comes on March 23 at March Mayhem where he will be wrestling his mentor and idol, "The Bronze Bull" Aaron Neil in a Tables Match. If Starr can eclipse his teacher in the ring then nothing will be impossible for the Little Engine That Could, who is now a 21st Century High Speed Rail.
© 2004-2015 Impact Zone Wrestling. All Rights Reserved.
Website designed and maintained by Wesley Bradfield