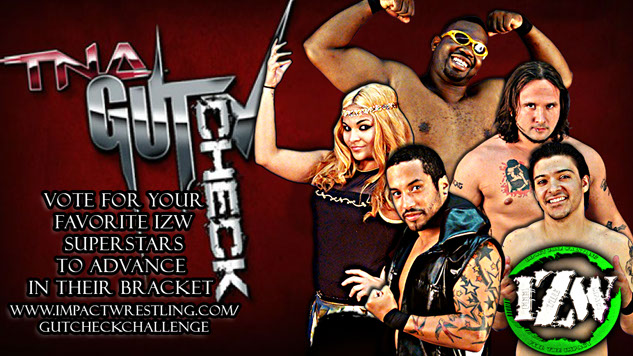 IZW WORLD! Several of your favorite IZW Superstars have been selected for the TNA Gut Check Challenge! Go cast your vote for your favorite superstars to win their bracket.
Venus (Paloma Vargas) - Bracket 5
CopyCat (Kenneth Boyce) - Bracket 7
Jordan Jacobs (Jordan Ferguson) - Bracket 7
Jermaine Johnson (Tremaine Fisher) - Bracket 8
Cody Jones (Christian Thompson) - Bracket 11
GO TO http://www.impactwrestling.com/gutcheckchallenge NOW TO CAST YOUR VOTE AND HELP YOUR FAVORITE IZW SUPERSTARS ADVANCE IN THE TNA GUT CHECK CHALLENGE!!!
© 2004-2015 Impact Zone Wrestling. All Rights Reserved.
Website designed and maintained by Wesley Bradfield