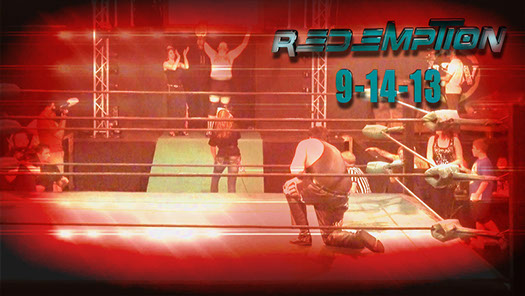 "IZW Adrenaline" returns this Saturday, September 21, with the first show after the eventful "Redemption" iPPV. Now that a week has passed, find out what the fallout it for all the wrestlers as they look back at the broken bodies of "Redemption" and look forward to "Halloween Hangover" on November 2.
Last week, "Big Business" Damon Windsor (@DamonWindsor) defeated IZW Champion "The Natural Born Leader" Johnny Z (@NBL_JohnnyZ), albeit by disqualification, in their epic title match. Z still holds the 20 pounds of gold that represents the top dog in the company, but Windsor was within seconds of turning Z and all of Impact Elite on its ear. Unfortunately, Z had an exit strategy and that was to blatantly cheat, which he did by kicking Windsor and referee Mark Wilson in their respective crotches to get himself automatically DQ'd. Will Windsor have any recourse about the unforeseen events that transpired at the end of the match? Co-Commissioner Shawn McHale might be able to add a bit of justice after the fact, but that's the problem. When dealing with a man and a twisted mind like Johnny Z, it's always after the fact. Z continues to outthink everyone in IZW as his grasp on the IZW Championship grows stronger each week.
In other huge news, IZW crowned new Tag Team Champions when Team Bull: The Bronze Bull (@BronzeBull_AN) & "The Brass Bull" IZW Wrestler (@thegods_bs), vanquished What Wrestling Should Be: "Larger Than Life" Jermaine Johnson (@JermaineAboutME) & "Lights Out" Jordan Jacobs (@JacobsLightsOut). TB showed that they are legit as they battered and bruised WWSB before finally putting the nail in the coffin and sending wrestling's most arrogant team home with their tails between their legs. Expect Bull and Starr to have a host of up and coming challengers now that they sit alone atop the tag team division. Johnson and Jacobs will also be looking to claw and scratch their way into a rematch and with Madame Commissioner Erica (@Lady_Of_Impact) in their pocket, WWSB might be getting a rematch sooner than later.
Speaking of Erica, she defeated yet another challenger to her crown, as Angel Blue (@AngelBlue0830) was unceremoniously destroyed by WWSB and then after being pinned, was demolished again by The Convict. Will a new challenger to Erica step up or will the Queen of IZW continue her reign of terror on the masses?
In other news, in a wild match, IZW Impact Division Champion Drake Gallows (@DrakeBmbulmer) defeated 5 other challengers in a 6-Pack Challenge Match that saw numerous jaw dropping moves including Gallows jumping off a stage 20 feet in the air to dish out his brand of pain while his mortal enemy, "The Image of Fear" Kevin Morgan (@TheImageofWar) flew over the top rope using a mass of bodies below to break his fall. Every wrestler in this bout took years off of their careers and showed the depth of talent in the locker room as each of these men stole the show in some form or fashion. We know Gallows left with the title and Morgan is a one of a kind monster, but who else will show up at the Impact Arena after such a ferocious match?
"The Leader of the Force" Double D (@IZWDoubleD) defeated Brandon Bishop (@BISHOPACW) in their one on one clash. D once again showed why he is considered by many to be the top grappler on the Independent scene while Bishop also proved that after more than a decade in the business he can still go hold for hold with anyone. Double D and Bishop's feud might have been squashed but expect big things from both men for the rest of 2013. At "Redemption" Double D announced that he would be the #1 entrant in the Monsters Bash Battle Royal and Bishop is sure to find himself slotted in the match at a less than desirable spot as well as both men continue to have huge problems and take issue with IZW Champion and Founder Johnny Z.
It was a sad night for fans of "The Old School Sucka" Randy Price (@RandyPrice_OSS) as his career was most likely ended by "Bad" Brad Michaels (@OldSchool_Brad) in their Unsanctioned Street Fight. Price took three Hall of Fame Piledrivers in successive order which only compounded Price's already injured neck. Michaels did a lot of bragging and boasting leading up to the match about how he would forever destroy Price and he did just that. What's next for the CEO of the OSA, as Price's days in a wrestling ring are probably over.
Get your shot of adrenaline with "IZW Adrenaline" every Saturday night at 8pm ET on GFL.tv. No other wrestling organization on the Independent landscape carves out as much new content as IZW. Developed and cultivated in the Sooner State, IZW is second to none. Be there for every bump, bruise and jaw-dropping moment all of which have made IZW recognized around the world.
To learn more about IZW, visit us at these locations.
Website: www.izwrestling.com
Twitter: https://twitter.com/IZWWORLD
YouTube Channel: www.youtube.com/IZWOklahoma
Facebook: https://www.facebook.com/ImpactZoneWrestling
© 2004-2015 Impact Zone Wrestling. All Rights Reserved.
Website designed and maintained by Wesley Bradfield