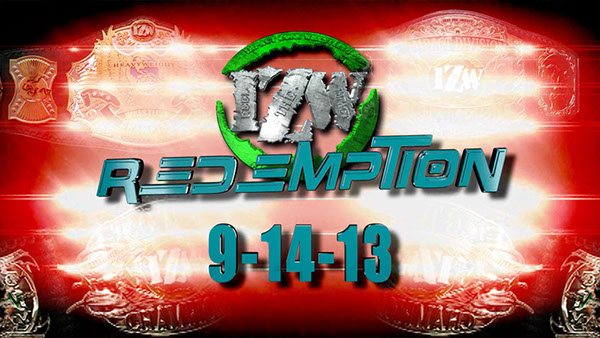 "Redemption" is here at last. The card is stacked with every title in IZW at stake as old feuds come to a head while newcomers look to shine. The battles and clashes of these combat athletes are second to none and every wrestler on the show is looking to destroy the person standing across from them. This iPPV will not be for the faint of heart as egos will be unchecked and adrenaline will be overflowing. Expect the unexpected as "IZW Redemption" takes center stage.
In the main event, IZW Champion, "The Natural Born Leader" Johnny Z puts his prestigious title on the line once again against the formidable "Big Business" Damon Windsor. Z and Windsor have been embroiled in multiple dustups over the past several months with Windsor usually ending up lying in a pool of his own blood. Windsor struck the final blow at "Evolution" where he pinned Johnny Z in the Impact Chamber Match, and ever since then he has been Public Enemy #1 for Impact Elite. This will be Windsor's first time challenging for the IZW Title so expect Z to have the edge in experience. Z has main evented shows across the country and this will be just another day at the office for the "Savior of Wrestling". Or will it? Z has never faced someone with the physical skill set of Windsor. Windsor is a powerhouse on the mat and has also recently shown an ability to glide through the air with an assortment of aerial maneuvers making him the biggest threat in history to Z's title reign. Z is nothing if not resilient. In a profession that is all about the bottom line, about results, he has proven to have no peer. Ever since his questionable title reign began earlier this year, there's been no question that Z has been a cut above every other wrestler in IZW because he has continued to make others play his game on his terms and his turf. This one's for all the marbles. Whoever is left standing in the end will be deserving of the title of IZW Champion.
The IZW Impact Division Title will be up for grabs in a Six Pack Challenge Match with Champion Drake Gallows defending against "Worst in the World" Copycat, Montego Seeka, Angel Camacho, "The Image of Fear" Kevin Morgan and newcomer "All Star" Adam Young. Morgan has to be the odds on favorite to walk away with the strap. He's been on a rampage ever since joining Impact Elite and becoming a disciple of Johnny Z. Morgan likes to say it's not about wins or losses, but even he has to admit that becoming the new Impact Division Champion is a huge accomplishment. Standing in his way first and foremost is Gallows who has established himself as a serious threat to anyone he steps in the ring with. Nobody in recent memory has made the kind of impact in such a short time as Gallows. He's dangerous everywhere he takes the fight and he's got an iron will that lets him do amazing things in the ring that others won't even try. The wildcard in the match has to be Copycat who has always been one step away from claiming the title. Copy brings a wealth of experience to the ring and is one of the top stars in the territory. Copycat believes he's been jipped out of getting his due respect and recognition and a victory here against five other well-respected athletes will get him the accolades he desperately seeks. Seeka, Camacho and Young are all in the same boat. Seeka is a former multi-time IZW Tag Team Champion, but he along with Camacho and Young are looking to climb up the ranks of singles competition. Seeka brings an arsenal of kicks and variations that makes him a dangerous opponent because of his one-kick KO power. Camacho is an athletically gifted big man that also utilizes a variety of suplexes and splashes that take advantage of his raw power and size. And Young is still a bit of an unknown as he won his way into the match at the last second. Young is definitely a real player in the divison, but he will be the rookie in the group and will have to rely on his raw athleticism to come out victorious in this gauntlet of titans.
The IZW Tag Titles will also be on the line as Champions What Wrestling Should Be ("Larger Than Life" Jermaine Johnson & "Lights Out" Jordan Jacobs) will be defending against Team Bull (The Bronze Bull & "The Brass Bull" IZW Wrestler). TB has already proven they can defeat WWSB as they did just that in disguise as the East-West Playaz. But when it was revealed that Bull and Starr took the place of the Playaz that victory was negated and the titles went back to WWSB. This bout promises to be a barn burner as these four men all have a storied history with one another. These two teams have feuded in some form or fashion for several years dating back to Johnson and Bull grappling over the IZW Title on multiple occasions, while Jacobs defeated Starr earlier this year to win the Impact Player of 2013. These two teams are the cream of the crop in the tag team division, yet only one will walk away a champion on September 14. WWSB is the cockiest squad in a long time and for good reason, because they can back it up and have been in a league of their own throughout the whole territory for months and months. But if there is a team that can dethrone the champs it truly has to be blessed from "the gods" and Team Bull just might be that duo.
"The Captain of the Force" Double D and Brandon Bishop lock horns in a battle of alpha males. Double D has been weary of Bishop ever since he returned to IZW a few months ago. To the outward observer, Bishop seems to have turned over a new leaf, yet through a series of miscommunications D and Bishop have never been on the same page, even as teammates. Bishop has come back to IZW with a vengeance. He dropped 70 lb and has never wrestled better. He's had the best matches of his IZW career in recent months and the sky is truly the limit for Bishop. Yet D hasn't bought into the hype. Double D has remained cautious and had his hackles up since Bishop's return. This will be an interesting matchup as both Double D and Bishop are at the top of the list of fan favorites. But sometimes even superheroes don't see eye to eye and there's nothing else to do but fight.
History will be made as the Queen's Crown will up for grabs as Madame Commissioner Erica defends her tiara against Angel Blue in the first ever Women's Dog Collar Match in Oklahoma professional wrestling history. Erica has ruled the women's division for several years now and she will have to defeat her toughest challenge in some time as Blue has given the Champ more than she can handle on several occasions. But Erica, much like the IZW Champion Johnny Z, has always found a way to keep the odds in her favor and through sheer athleticism or a slight bending of the rules, Erica has dominated her peers one after another. But the great equalizer of this match could come in the form of the special guest referee, Miss Diss Lexia. MDL is also another fierce challenger in the ring, but on this night she will be donning the black and white striped shirt. MDL is sure to call the match right down the middle, and if Erica tries to do anything other than wrestle, she will be in for a rude awakening. Don't blink when Erica and Blue are in the ring as they are two of the most innovative grapplers in all of wrestling and you are bound to see a plethora of inventive and original moves when these two ladies throw down.
Words cannot begin to describe the upcoming match between Randy Price and "Bad" Brad Michaels. But here goes. Unsanctioned Old School Street Fight…These two gladiators will be stepping into the coliseum that is the Impact Arena looking to crush one another once and for all. Both are masters of the piledriver and both have felt the effects of the deadly finisher. Price won the last meeting between these two, but after the match, Michaels proceeded to pile drive Price not once, but twice onto the concrete outside of the ring. This was Price's second major neck injury in 2013. Price has missed months of action because of Michaels. That's why when Price demanded the match, every jaw watching "IZW Adrenaline" dropped. Price was putting himself in the lion's den. Price came up learning from Michaels and although it's very evident that in a straight wrestling match, Price has superseded his teacher, this isn't a regular match. In fact, Co-Commissioner Shawn McHale wouldn't even sanction any type of wrestling contest between these two for liability purposes. When these two lock up expect fireworks as this street fight will be like nothing you have ever witnessed in your life and if you're the least bit squeamish, this bout might not be for you. Someone is going out on a stretcher…permanently.
To learn more about IZW, visit us at these locations.
Website: www.izwrestling.com
Twitter: https://twitter.com/IZWWORLD
YouTube Channel: www.youtube.com/IZWOklahoma
Facebook: https://www.facebook.com/ImpactZoneWrestling
© 2004-2015 Impact Zone Wrestling. All Rights Reserved.
Website designed and maintained by Wesley Bradfield