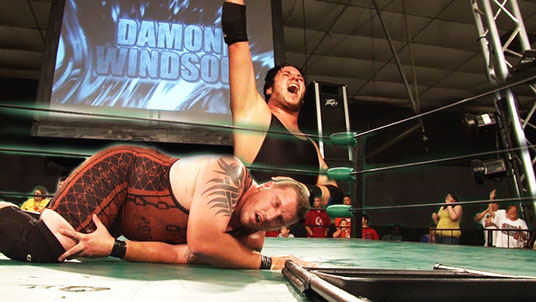 "IZW Adrenaline" is back this Saturday, October 5, with another huge show on GFL.tv for FREE. With a month before "Halloween Hangover" on November 2, the main event of this show could have huge implications on how the IZW Championship Match at "Halloween Hangover" is refereed.
Already announced for this week in the main event, IZW Champion "The Natural Born Leader" Johnny Z (@NBL_JohnnyZ) will square off against head referee Mark Wilson (@bsstallion) in a one on one match. These two have had several memorable encounters over the past month as each man brought the other to his knees by kicking him square in the package. Wilson became the unknowing patsy to Z's plans at "Redemption" when Z got himself intentionally disqualified in his title bout against "Big Business" Damon Windsor (@DamonWindsor). Wilson gave Z a receipt for his actions a week later as he launched a scud missile kick right through the goal posts that where Johnny Z's legs and connected with a kick heard around the world that left the Champion laying on the ground in the fetal position. What will happen when these two square off in the Impact Arena? It's a huge mismatch on paper and looks like a massacre waiting to happen.
Last week, Miss Diss Lexia (@missdiss_lexia) made her presence known as she along with Team Bull defeated Madam Commissioner Erica (@Lady_Of_Impact) & What Wrestling Should Be in one of the most creative matches in recent memory. It looks like Erica has two formidable opponents on her heels vying for the Queen's Crown as along with MDL, Angel Blue (@AngelBlue0830) is also hitting on all cylinders. Will these three women square off at "Halloween Hangover" for the title? This feud keeps getting hotter and hotter each week. What will happen on October 5?
Speaking of WWSB and TB, these two tag teams have been dueling at the top of the IZW Tag Team Division for months. Now that Team Bull has the straps and has been dishing out beatings seemingly every week, what can WWSB do to curb the tide? They desperately want their titles back but at this rate if the two teams locked horns anytime soon, WWSB would probably be thrashed once again. Something needs to change. WWSB needs to look for that one edge they have and then exploit it to the fullest. As members of Impact Elite and followers of Johnny Z, you can bet WWSB has already started creating a master plan to get their titles back.
IZW Impact Division Champion Drake Gallows (@DrakeBmbulmer) has continued to take out all challengers to his throne. Last week he defeated Angel Camacho (@A_Camacho0986) and the week before that it was Jordan Jacobs (@JacobsLightsOut). Who will step up to the challenge this week as Gallows is wrestling at an all-time high and looks unstoppable in the ring? "The Image of Fear" Kevin Morgan (@TheImageofWar) has vowed to get his pound of flesh when it concerns Gallows, but so far, Gallows has destroyed every obstacle that has been placed in front of him.
Chances are good that there will also be another Over the Top Rope Challenge as the roster readies for the Monster Bash Battle Royal on November 2. Who will step up to the test and show that they are a real contender to win the Battle Royal and become the #1 Contender for the IZW Title?
"The Captain of the Force" Double D (@IZWDoubleD) continues to rack up win after win as he prepares for the Monsters Bash Battle Royal as the #1 Entry. Last week, D tore through "Bad" Brad Michaels (@OldSchool_Brad) and put the whole roster on notice that he's never been more prepared and focused for a single match. With a month away until D gets an opportunity to become the #1 Contender who will he look to buzz saw through this week?
Get your shot of adrenaline with "IZW Adrenaline" every Saturday night at 8pm E/7pm C on GFL.tv. No other wrestling organization on the Independent landscape carves out as much new content as IZW. Developed and cultivated in the Sooner State, IZW is second to none. Be there for every bump, bruise and jaw-dropping moment all of which have made IZW recognized around the world.
To learn more about IZW, visit us at these locations.
Website: www.izwrestling.com
Twitter: https://twitter.com/IZWWORLD
YouTube Channel: www.youtube.com/IZWOklahoma
Facebook: https://www.facebook.com/ImpactZoneWrestling
© 2004-2015 Impact Zone Wrestling. All Rights Reserved.
Website designed and maintained by Wesley Bradfield