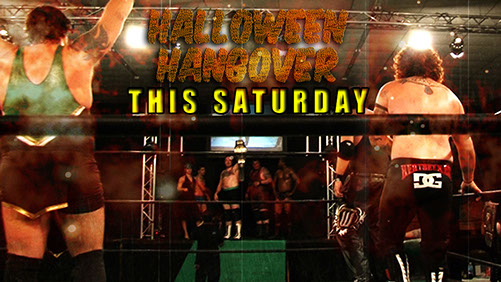 The final show before "Halloween Hangover" set the table for what is sure to be a blockbuster iPPV on November 2. "IZW Adrenaline" from October 26 was bursting at the seams as the warriors of IZW trekked closer to next week's huge iPPV. After the night was over, numerous broken bodies littered the Impact Arena in what is no doubt a precursor to the Monsters Bash Battle Royal and every other match that stacks the card for "Halloween Hangover". If you missed the show live, no problem as "IZW Adrenaline" is now FREE on GFL.tv every Saturday night and can also be watched on GFL On Demand in the days and weeks following the event!
The Convict and Luke Langley started off the night in singles action. Langley, who is one half of the tag team the KC Wolves, is still a newcomer to IZW and looking to make his mark in the company. He took on one of the most menacing figures in all of professional wrestling as The Convict looked to put a prison-style whopping on the upcoming Langley. In the beginning, Langley connected with kicks, elbows and punches and even got a two-count after a quick school boy roll up pin attempt after The Convict missed a splash in the corner. The Convict recovered and began to systematically break down Langley with forearm smashes while also using the ropes to choke the oxygen out of Langley. Convict caught Langley in midair as Langley went for a high crossbody and summarily planted him on the canvas with a thunderous slam. Later, Langley missed with a super kick and got a vicious clothesline that spun him around in a circle in midair. But Langley did not give up and eventually got to a spot where he had The Convict reeling as he connected with an enziguri kick, a roundhouse kick and a missile drop kick that put The Convict on his back. Langley went for a stomp from the top rope but Convict moved out of the way then connected with a running splash in the corner followed by a 15 to 20 that put the upstart Langley's lights out for good.
Co-Commissioner "The Number 1" Shawn McHale came to the ring and introduced the newly reinstated head referee Mark Wilson. Wilson will now referee the IZW Championship Match at "Halloween Hangover" when IZW Champion, "The Natural Born Leader" Johnny Z (@NBL_JohnnyZ) faces "Big Business" Damon Windsor (@DamonWindsor). McHale also let it be known that Impact Elite would be barred from the ringside area for that match making it a true one on one bout with the IZW Title on the line. This brought out Z and the rest of Impact Elite who looked to get a piece of McHale and Wilson. But before IE could enter the ring and do any damage, Windsor, Impact Division Champion Drake Gallows (@DrakeBmbulmer), "The Captain of the Force" Double D (@IZWDoubleD), and Team Bull chased IE off the ring apron and back down to the concrete floor. With Windsor and Company now in the ring, and Impact Elite on the floor both stables looked to get a piece of one another in various matches throughout the rest of the night with a caveat by Madame Co-Commissioner Erica (@Lady_Of_Impact) that Team Bull could not be ringside for one another's match.
The feuding factions wasted no time as "Larger Than Life" Jermaine Johnson (@JermaineAboutME) took on The Bronze Bull (@BronzeBull_AN). The crowd was all over Johnson who was heckled with "Diva" chants during the whole match. Bull tried to suppress Johnson's athleticism with a good old fashioned side headlock. Bull connected with a delayed vertical suplex but missed with the following splash as Johnson took control with a drop kick to the side of the head of Bull. Johnson missed with a high risk move off the top rope and was belly to belly suplexed by Bull. Johnson came back with a high kick to Bull's head moments later. Bull responded with several right hands and a discus punch only to be dropped with a flying forearm by Johnson as these two went move for move. Bull broke a rear chin lock by Johnson with a belly to back suplex as both men were wrestling off of instinct by this point. The Bronze Bull hit a spinebuster followed by a Greetings From Mt. Olympus attempt but Johnson countered with a Russian leg sweep in this grappling classic. As Johnson was nullified on the top rope by Bull, "Lights Out" Jordan Jacobs (@JacobsLightsOut) jumped into the ring to go after Bull, but was met with a truck load of right hands. This distraction gave Johnson a chance to compose himself and he connected with his finisher, the ES2, as he slammed Bull's head full force into the mat and got the 1-2-3.
Next, Double D took on Angel Camacho (@A_Camacho0986) in an Over the Top Rope Challenge Match. After several lockups ended in a draw, Double D landed numerous elbows to Camacho's face and head. But after whipping himself off the ropes for added momentum, Double D was crushed with a standing splash by Camacho that knocked Double D down in an instant. Camacho hit a suplex next followed by forearms across the face. Camacho was in full control by this point as he drove his entire body weight down onto Double D's neck as D's throat rested across one of the ropes. D turned the tide with a hurricanrana but only temporarily because Camacho hit a belly to belly suplex that dumped Double D on his head. Camacho connected with a splash in the center of the ring seconds later. Camacho followed up with a splash in the corner-enziguri kick combo that dropped D once again. To add more salt to the wound, Camacho smashed his posterior into D's face several times. But Double D wasn't going to go out like that. He gathered his composure and hit a springboard drop kick followed by a missile drop kick. D connected with a few knife edge chops on Camacho's chest before going for the Force Chop only to be hoisted above Camacho's shoulders and tossed out of the ring. Luckily for Double D, he was able to grab the ropes and hang on the outside of the ring not yet touching the ground. D caught Camacho with a leg scissors while still hanging from the ropes and looked to toss Camacho over, but Camacho was too strong from this position and gave D a bump with his butt that dislodged D's grip on the ropes and sent him crashing to the ground outside of the ring and giving the victory to Camacho. If Camacho brings this type of game into the Monsters Bash Battle Royal he will be a threat for everybody on the roster.
"Lights Out" Jordan Jacobs took on "The Brass Bull" IZW Wrestler (@thegods_bs) next. Jacobs and Starr got off to a fast start with Starr hitting a spinning heel kick, ten punches to the face and a Boston crab attempt. Jacobs grabbed the ropes for a break then tossed Starr into the second rope where Jacobs jumped on the back of Starr with his knees, pushing the air out of Starr's lungs. Jacobs then pulled Starr's shoulders back which applied excruciating pressure on Starr's rotator cuffs. Starr battled back with a reverse atomic drop and clothesline moments later. But Jacobs came back with a double knees to Starr followed by a baseball slide kick to a downed Starr. Jacobs added a reverse DDT but Starr connected with a flying fist to the throat as these two were unleashing hell on each other. After a head to head collision, Jacobs and Starr were both on the mat. They got up at the exact same time and traded haymakers until Starr connected with a spear. Starr went for a Boston crab again, but a rake to the eyes by Jacobs temporarily blinded Starr. Johnson hit Starr when the ref wasn't looking and Jacobs connected with his double knees to Starr's jaw from the top rope and picked up the victory. What Wrestling Should Be went 2-0 in singles competition against Team Bull, but the real test will be at "Halloween Hangover" when the IZW Tag Team Titles will be on the line.
In the main event, Impact Elite: IZW Champion "The Natural Born Leader" Johnny Z & "The Image of Fear" Kevin Morgan (@TheImageofFear) took on "Big Business" Damon Windsor & "The Urban Legend" Drake Gallows in tag team competition. Former tag team partners and champions, Morgan and Windsor locked horns first. Morgan got the better of the exchanges with multiple knees to Windsor's ribcage. Z tagged in quickly and hit a few pot shots before Morgan was back in. Windsor turned the tide with a clothesline and tagged in Gallows who was brutalized by a clothesline from Morgan. Z tagged in and sunk in a tight headlock that began to cut off the blood flow to Gallows' brain before Gallows finally rose to his feet and got Z off of his feet with a big back body drop. Windsor tagged in and connected with a multitude of back elbows in the corner but only got a two-count. Johnny Z countered with a veteran move as he came down with a knee on Windsor's windpipe temporarily stopping Windsor in his tracks. Morgan tagged in and connected with a head butt before tagging Z back in. Seeing Z standing across from him rejuvenated Windsor who was able to find the strength to give Z a spinning side slam before readying for a Detonator. But before Windsor could pull off his finisher, Morgan jumped into the ring to attack Windsor while What Wrestling Should Be also stormed down to the ring and attacked Gallows and Windsor. This prompted the referee to call for a disqualification awarding the victory to Windsor and Gallows. Team Bull rushed to the ring to even the odds as Impact Elite jumped out of the ring. A fired up Shawn McHale booked an immediate 8-man tag team match with the aforementioned wrestlers as he wasn't going to let Impact Elite ruin the night by interfering in yet another match.
When the new match started, Johnny Z and The Bronze Bull were in the ring and Z got off to a quick start with an illegal eye poke to Bull. As Bull regained his eyesight he got rejuvenated from "the gods" and spun Z around into the corner where Bull connected with nine hard haymakers followed by raking the eyes of Johnny Z in a bit of payback. Gallows tagged in and punched Z in the face before whipping the IZW Champion into the ropes and taking a floatover DDT by the master. Z drove his knee into the back of Gallows' spine looking to permanently disable him before tagging in Morgan who gave Gallows a two handed choke slam. Somehow Gallows kicked out at two and met Morgan with a jawbreaker that dropped the big man. Starr tagged in and gave Morgan a series of tornado elbows. Morgan reversed the tide with a clothesline in the corner and Johnson tagged in. Johnson hurled Starr into the second rope where Jacobs followed up with a full speed running double knee to Starr's face and chest. Morgan was now in for Impact Elite and missed a clothesline in the corner giving Starr an opportunity to land his flying clothesline. The monster that is Kevin Morgan shook off the move and nearly decapitated Starr with a short arm clothesline in the middle of the ring as Johnny Z tagged in. Z was so confident that he tossed Starr into his own corner where Windsor made the tag as the two men vying for the IZW title at "Halloween Hangover" went at it. Windsor hit a back body drop on Z that elevated Z 8 feet into the air and followed up with a sidewalk slam. Z battled back with a bulldog from the second rope and tagged Morgan back in. Morgan drove Windsor into IE's corner where Johnson tagged in and dished out forearm after forearm to Windsor's back. Jacobs tagged in but he and Johnson where given a double suplex by Windsor who tagged in The Bronze Bull. Bull unleashed two clotheslines and a spinebuster but as he went for the pinfall every other wrestler from both teams entered the ring. It was total chaos. Morgan gave Gallows a Detonator. Windsor gave Johnny Z a choke slam. WWSB connected with a Minority Cutter on Windsor. And Bull and Starr hit Jacobs with their Bull Cutter as The Bronze Bull picked up the pinfall on Jacobs amid a mass of shattered bodies in a wild ending to a raucous night.
To learn more about IZW, visit us at these locations.
Website: www.izwrestling.com
Twitter: https://twitter.com/IZWWORLD
YouTube Channel: www.youtube.com/IZWOklahoma
Facebook: https://www.facebook.com/ImpactZoneWrestling
© 2004-2015 Impact Zone Wrestling. All Rights Reserved.
Website designed and maintained by Wesley Bradfield