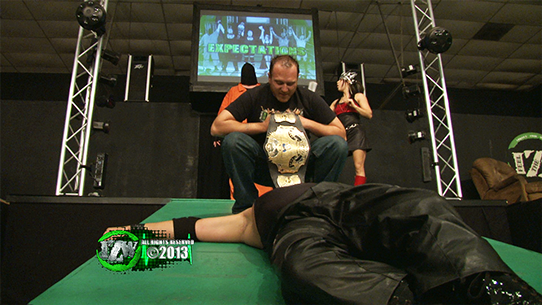 "IZW Adrenaline" is back this Saturday, October 26, with another dose of high octane, no nonsense wrestling. This is the go-home show before "Halloween Hangover" on November 2, and all bets are off as the wrestlers descend upon the Impact Arena looking to cause mayhem and destruction at every turn. There's no excuse to miss this show as it will be streamed online at GFL.tv for FREE. Tune in and witness the new era of wrestling as IZW burns down the territory and its competition.
Last week, IZW Champion "The Natural Born Leader" Johnny Z (@NBL_JohnnyZ) didn't wrestle in a match, but he was the shot caller for the demise of his opponent at "Halloween Hangover". "Big Business" Damon Windsor (@DamonWindsor) was brutalized by The Convict and took three 15 to 20s, with the final two being on the unbreakable walkout ramp as Windsor's spine and vertebras were smashed to bits. With Windsor crumpled over in a heap of twisted flesh, Z hovered over him like a lion who had just killed his dinner. Windsor was the one who demanded a Casket Match against Johnny Z, but that could turn into a karma kick in the behind because if anyone already has one foot in the grave, its Windsor…and there's still one week left before "Halloween Hangover"! With not much time for any sort of real recovery, it is still unknown at press time if Windsor will even be at the Impact Arena this week.
"The Captain of the Force" Double D (@IZWDoubleD) proved the Force is indeed strong with him as last week he defeated What Wrestling Should Be: "Larger Than Life" Jermaine Johnson (@JermaineAboutME) & "Lights Out" Jordan Jacobs (@JacobsLightsOut) and for all intents and purposes D's own tag team partner, "Bad" Brad Michaels (@OldSchool_Brad). The farce of a match was put together by Johnny Z to do one thing. Destroy Double D. It didn't happen and D proved he is able to fight against the odds, a skill that will come in very handy as he finds himself as the #1 entrant in the Monsters Bash Battle Royal at "Halloween Hangover". A fact that already has Johnny Z sweating bullets. But with a week until then, will Z and the rest of Impact Elite and Brad Michaels look to take Double D out of the equation one more time? Bet on it. Also bet on Double D hurling flying knees in fools faces and serving grown man Force chops to anyone who steps up to challenge him.
Madame Co-Commissioner and Queen of IZW, Erica got some unwanted news as she will be facing not one but two opponents with her Queen's Crown on the line as Miss Diss Lexia (@missdiss_lexia) and Angel Blue (@AngelBlue0830) will all square off in a Triple Threat Match at "Halloween Hangover".
Also expect the IZW Tag Team Champions in the house as Team Bull: The Bronze Bull (@BronzeBull_AN) & "The Brass Bull" IZW Wrestler (@thegods_bs) give the fans at the Impact Arena another dose of Pure Bull. The Champs are hitting on all cylinders and have buzz sawed through everyone in their way. Expect WWSB to have a word or two concerning Team Bull and the tag team belts.
IZW Impact Division Champion Drake Gallows (@DrakeBmbulmer) upped the ante last week by crushing "The Image of Fear" Kevin Morgan (@TheImageofFear) with a steel chair in Morgan's match with Striker (@strikerokb). Morgan was blindsided and probably deserved it, but he won't soon forget as Gallows probably should have let sleeping dogs lie. But that's not Gallows' motto. He meets every challenge head on and there is no bigger challenge in IZW than a pissed off Kevin Morgan. Will the "Image of Fear" bring the pain this week?
Expect to see all of these stars and more as IZW readies for the biggest autumn iPPV of the year with the final show before "Halloween Hangover".
Get your shot of adrenaline with "IZW Adrenaline" every Saturday night at 8pm E/7pm C on GFL.tv. No other wrestling organization on the Independent landscape carves out as much new content as IZW. Developed and cultivated in the Sooner State, IZW is second to none. Be there for every bump, bruise and jaw-dropping moment all of which have made IZW recognized around the world.
To learn more about IZW, visit us at these locations.
Website: www.izwrestling.com
Twitter: https://twitter.com/IZWWORLD
YouTube Channel: www.youtube.com/IZWOklahoma
Facebook: https://www.facebook.com/ImpactZoneWrestling
© 2004-2015 Impact Zone Wrestling. All Rights Reserved.
Website designed and maintained by Wesley Bradfield