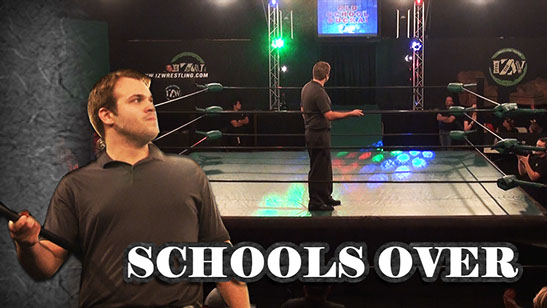 "IZW Adrenaline" returns this Saturday, October 19, with another FREE show on GFL.tv. With only two more shows before "Halloween Hangover" on November 2, the hotly anticipated autumn extravaganza is taking shape as everyone looks to make a statement in the season's epic iPPV.
Last week, IZW Champion "The Natural Born Leader" Johnny Z (@NBL_JohnnyZ) suffered his second loss in a row in consecutive weeks as he and "The Image of Fear" Kevin Morgan (@TheImageofFear) were defeated by "Big Business" Damon Windsor (@DamonWindsor) and IZW Impact Division Champion Drake Gallows (@DrakeBmbulmer) in a tag team match. Morgan dropped the pinfall, yet Z still found himself on the short end of the stick once again. What will the "Savior of Wrestling" have in store this week as the biggest match of his career is two weeks away when he faces Windsor in a Casket Match! Z needs to find a way to change the momentum heading into his match on November 2 and there's only one way to find out what he has planned for Windsor, Gallows and the rest of the IZW faithful. Tune in this Saturday night on GFL.tv to find out.
In other news, "The Old School Sucka" Randy Price (@RandyPrice_OSS) announced his retirement from wrestling due to numerous neck injuries caused by "Bad" Brad Michaels (@OldSchool_Brad). It was an emotional moment for the IZW veteran in front of the Impact Arena as now it seems like Price has closed a chapter in his life for good. Will Michaels be in the house this Saturday to gloat even more about his handiwork?
The Convict and "The Captain of the Force" Double D (@IZWDoubleD) engaged in another epic battle with The Convict coming out on top on last week's episode. The Convict is the final entrant into the Monsters Bash while Double D will be the first entrant once again. If these two meet at "Halloween Hangover" it will be because they are likely the final two remaining competitors in the grueling battle royal with an automatic IZW Championship Match on the line. Are these two destined to square off once again? What's in store for these two gladiators this week?
The Tag Team Titles rest in the hands of Team Bull: The Bronze Bull (@BronzeBull_AN) & "The Brass Bull" IZW Wrestler (@thegods_bs) but What Wrestling Should Be: "Larger Than Life" Jermaine Johnson (@JermaineAboutME) & "Lights Out" Jordan Jacobs (@JacobsLightsOut) have made it their sole mission in life to dethrone the reigning Champs. Team Bull has had WWSB's number for some time now in both tag and singles competition. But WWSB is a part of Impact Elite and if there's one thing IE has proven in the past; it might not be today, it might not be tomorrow, but sooner or later, they are going to get their revenge.
With everything in IZW leading to "Halloween Hangover" and the Monsters Bash Battle Royal who will run away from the pack. Who will get a head start for November 2? Make sure to join these superstars along with a host of other top notch grapplers including Madame Commissioner Erica "Worst in the World" Copycat, Angel Camacho, Miss Diss Lexia, Striker and more as IZW comes barreling down the road ready to destroy all the competition.
Get your shot of adrenaline with "IZW Adrenaline" every Saturday night at 8pm E/7pm C on GFL.tv. No other wrestling organization on the Independent landscape carves out as much new content as IZW. Developed and cultivated in the Sooner State, IZW is second to none. Be there for every bump, bruise and jaw-dropping moment all of which have made IZW recognized around the world.
To learn more about IZW, visit us at these locations.
Website: www.izwrestling.com
Twitter: https://twitter.com/IZWWORLD
YouTube Channel: www.youtube.com/IZWOklahoma
Facebook: https://www.facebook.com/ImpactZoneWrestling
© 2004-2015 Impact Zone Wrestling. All Rights Reserved.
Website designed and maintained by Wesley Bradfield