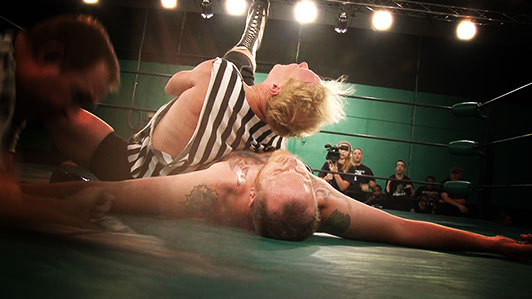 "IZW Adrenaline" is back this Saturday, October 12, with another blockbuster show on GFL.tv for FREE. With less than a month before "Halloween Hangover" on November 2, everyone is heading towards the Monsters Bash Battle Royal with one goal in mind...Becoming the #1 Contender for the IZW Championship. As we saw last week, wrestlers are doing whatever they can to help increase their chances of winning the Monsters Bash Battle Royal including making closed door deals, having brutal matches or displaying sheer hubris. Whatever the differing circumstances the conclusion has been the same, a pile of broken and battered bodies in the Impact Arena.
Last week, head referee Mark Wilson (@bsstallion) scored an unlikely victory against the IZW Champion "The Natural Born Leader" Johnny Z (@NBL_JohnnyZ) in a Non Title No Disqualification Match. The end came after "Big Business" Damon Windsor (@DamonWindsor) was able to free himself from being handcuffed in the backstage area. Wilson and Windsor delivered a double choke slam to Z who was already down for the count from an earlier crotch punch by Wilson. Z was left writhing in pain as Wilson and Windsor celebrated. Expect there to be hazardous repercussions for Wilson and especially Windsor who will be challenging Johnny Z for the IZW Title at "Halloween Hangover" in a Casket Match.
In other news, "Bad" Brad Michaels (@OldSchool_Brad) destroyed "The Captain of the Force" Double D (@IZWDoubleD) with a super kick, as Johnny Z had placed what amounts to a bounty on D's head. If Michaels can eliminate Double D at the Monsters Bash Battle Royal, regardless if he wins the match, Michaels will be granted an automatic title shot. Double D's prospects took another turn for the worse as not only is he the #1 entrant with Michaels gunning for him specifically, but "Larger Than Life" Jermaine Johnson (@JermaineAboutME) threw down the gauntlet and volunteered himself to be the #2 entrant so he and D could go at it one on one. Johnson is intent on showing Double D, Michaels and even Johnny Z himself that when it comes to problems, Johnson is the Problem Solver for Impact Elite.
Last week, The Convict defeated Brandon Bishop (@BISHOPACW) to become the final entrant in the Monsters Bash Battle Royal. Convict didn't just win the match he brutalized Bishop as after the match Convict dragged Bishop out of the ring and onto the walkout ramp and gave Bishop a 15 to 20. Bishop's body convulsed before finally wilting into the fetal position. Earlier in the night, Bishop told the IZW World that he had a fork in the road of what to do next with his career. Bishop could either walk away from IZW for a bit, or take the more dangerous journey and continue his path which he hoped would ultimately lead to a confrontation with Johnny Z. Last week he got neither and he was put out of action indefinitely by The Convict. Bishop still has a lot to offer the sport and IZW, but after last week's actions, he might not be able to get out of bed for months.
Get your shot of adrenaline with "IZW Adrenaline" every Saturday night at 8pm E/7pm C on GFL.tv. No other wrestling organization on the Independent landscape carves out as much new content as IZW. Developed and cultivated in the Sooner State, IZW is second to none. Be there for every bump, bruise and jaw-dropping moment all of which have made IZW recognized around the world.
To learn more about IZW, visit us at these locations.
Website: www.izwrestling.com
Twitter: https://twitter.com/IZWWORLD
YouTube Channel: www.youtube.com/IZWOklahoma
Facebook: https://www.facebook.com/ImpactZoneWrestling
© 2004-2015 Impact Zone Wrestling. All Rights Reserved.
Website designed and maintained by Wesley Bradfield