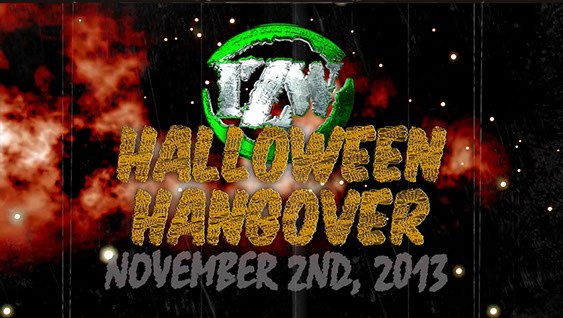 "IZW Adrenaline" returns this Saturday, November 9, with another FREE show on GFL.tv. "Halloween Hangover" is now over and with several shocking outcomes there are now numerous fresh feuds and budding rivalries as we head into the grand finale of iPPVs later this year, "Chaotic Christmas" on December 21.
IZW Champion "The Natural Born Leader" Johnny Z (@NBL_JohnnyZ) defeated "Big Business" Damon Windsor (@DamonWindsor) in a Casket Match with the unforeseen and astonishing help from head referee Mark Wilson. Windsor was ready to roll Z into the casket and shut the lid on the vilest IZW Champion in history when he was double crossed by Wilson who kicked Windsor in the family jewels. Windsor crumpled to the ground and after a belt shot to the face was rolled into the coffin where the lid was closed. Z proved once again that there is nobody better at executing a well-though out game plan as he had contingencies set up that nobody else would have every dreamed of, let alone had the gumption and resourcefulness to pull off. Windsor's opportunity at the IZW Title has passed for now, but Z has a new challenger in the form of "The Worst in the World" Copycat, the winner of the Monsters Bash Battle Royal and new #1 Contender.
Copycat survived a gauntlet of obstacles to win his first Monsters Bash. Part of the highlights of the match included Copy tossing out Jermaine Johnson, Erica, and surviving against the final two opponents, the returning O'Malley and "Big, Bad and Sexy" Angel Camacho who outweighed him by hundreds of pounds each. What Copy gave up in size he made up for in intelligence as he got both O'Malley and Camacho up and over the top rope by using their momentum against them. But nothing in IZW is ever that simple. "Bad" Brad Michaels (@OldSchool_Brad) didn't win the Monsters Bash, but he didn't have too. All he needed to do was eliminate Double D (@IZWDoubleD), which he did with a super kick. Michaels is now also in line for a IZW Title Match sometime in the future thanks to fulfilling Johnny Z's wished and taking out Double D. With Z still atop the mountain and now two new challengers to this throne, what will the future hold as it concerns the IZW Title?
"The Image of Fear" Kevin Morgan (@TheImageofFear) became the new Impact Division Champion as defeated former Champion "The Urban Legend" Drake Gallows (@DrakeBmbulmer) in an Impact Rules Match. Morgan finished Gallows off by tossing him off the tope rope through a table that was waiting on the ground, outside of the ring. Because of his strength and size, Morgan looks nearly impossible to defeat in an Impact Rules Match which could bode well for a lengthy title run.
Impact Elite struck gold once again as What Wrestling Should Be: "Larger Than Life" Jermaine Johnson (@JermaineAboutME) & "Lights Out" Jordan Jacobs (@JacobsLightsOut) re-claimed the IZW Tag Team Titles by defeating Team Bull: The Bronze Bull (@BronzeBull_AN) & "The Brass Bull" IZW Wrestler (@thegods_bs) in a bout that saw WWSB isolate Starr for the majority of the match and use their technical ability along with some well-placed cheating to get their desired result.
Miss Diss Lexia (@missdiss_lexia) also became the new Women's Champion, winning the Queen's Crown in a Triple Threat Match against former Champion Erica (@Lady_Of_Impact) and top contender Angel Blue (@AngelBlue0830). It was a hard fought battle and now MDL has a bullseye on her chest from Blue and more importantly Erica who had reigned supreme over the entire division for years.
Get your shot of adrenaline with "IZW Adrenaline" every Saturday night at 8pm E/7pm C on GFL.tv. No other wrestling organization on the Independent landscape carves out as much new content as IZW. Developed and cultivated in the Sooner State, IZW is second to none. Be there for every bump, bruise and jaw-dropping moment all of which have made IZW recognized around the world.
To learn more about IZW, visit us at these locations.
Website: www.izwrestling.com
Twitter: https://twitter.com/IZWWORLD
YouTube Channel: www.youtube.com/IZWOklahoma
Facebook: https://www.facebook.com/ImpactZoneWrestling
© 2004-2015 Impact Zone Wrestling. All Rights Reserved.
Website designed and maintained by Wesley Bradfield