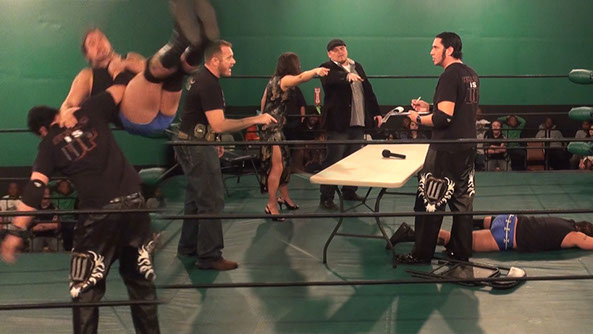 HOLY MOLY!!! "IZW Adrenaline" is back this Saturday with the final show of November and Business Has Picked Up! If you didn't watch last week's free show stop what you're doing and go to GFL.tv right now. For those of you who saw the show, especially the ending, then you know the main event at "Chaotic Christmas" was turned on its head. As 2013 comes to a close there is no reason to miss a single second of any "IZW Adrenaline" show as they are full of great wrestling, surprises and FREE!
Last week during the official contract signing for the IZW Title match at "Chaotic Christmas" on December 21, "Big Business" Damon Windsor (@DamonWindsor) found a loophole in the process and used it to his advantage by choke slamming #1 Contender "Worst in the World" Copycat (@CopycatWrestler) and signing his own name to the contract creating a legally binding document! Windsor took matters into his own hands and outsmarted Copycat and IZW Champion "The Natural Born Leader" Johnny Z (@NBL_JohnnyZ) by working the system and getting his sought after rematch with Z for the IZW Title. As Copycat writhed in pain on the ground, Z was startled at the reality of his new opponent who he would be facing in less than a month. Is this it? Will Copycat be left out in the cold looking on from the outside or will he take a page out of Windsor's book and find a way to flip the script and get himself back in the title picture?
In what promises to be a huge main event, it will be IZW Tag Team Champions What Wrestling Should Be defending their titles against Team Bull who invoked their rematch clause. Normally this would be a tremendous back and forth match between two of the top tag teams in the country. But there's more to the story than that, as "Lights Out" Jordan Jacobs (@JacobsLightsOut) is still out of action until next year recovering from shoulder surgery. "Larger Than Life" Jermaine Johnson (@JermaineAboutME) will have to either find a new partner or defend the titles solo. It will be a tall order for Johnson to find someone willing to go to war with him because well… he is a diva. It could turn into a glorified handicap match and if that's the case, The Bronze Bull (@BronzeBull_AN) & "The Brass Bull" IZW Wrestler (@thegods_bs) mine as well clear some space in their trophy cases because the belts will be going home with them.
Also announced for this week will be the return of Brandon Bishop (@BISHOPACW) who was last seen being eliminated in the Monsters Bash Battle Royal at "Halloween Hangover" by The Convict. The Convict will also be in the house along with Co-Commissioner "The Number 1" Shawn McHale who promised a huge announcement. Bishop is coming back with a vengeance to IZW and The Convict is as gully as they come so expect fireworks from these two if they cross paths which has about a 100% probability.
The Women's Division was thrown into disarray as perennial top contender Angel Blue (@AngleBlue0830) turned her back on reigning Queen's Crown Champion Miss Diss Lexia (@missdiss_lexia) in a tag team match by ambushing MDL with a DejaBlue. It's unclear whether Blue has now sided with Madame Commissioner Erica (@Lady_Of_Impact) or if Blue did this strictly for her own benefit. More light will be shed on this intense situation in the near future.
Get your shot of adrenaline with "IZW Adrenaline" every Saturday night at 8pm E/7pm C on GFL.tv. No other wrestling organization on the Independent landscape carves out as much new content as IZW. Developed and cultivated in the Sooner State, IZW is second to none. Be there for every bump, bruise and jaw-dropping moment all of which have made IZW recognized around the world.
To learn more about IZW, visit us at these locations.
Website: www.izwrestling.com
Twitter: https://twitter.com/IZWWORLD
YouTube Channel: www.youtube.com/IZWOklahoma
Facebook: https://www.facebook.com/ImpactZoneWrestling
© 2004-2015 Impact Zone Wrestling. All Rights Reserved.
Website designed and maintained by Wesley Bradfield