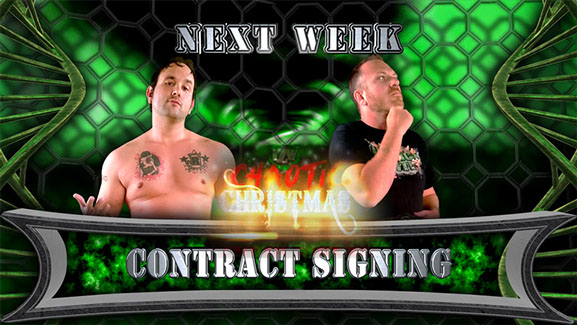 "IZW Adrenaline" is back this Saturday, November 23, with another FREE show on GFL.tv. A month out from "Chaotic Christmas" and there are still tons of unanswered questions with the most glaring being who is going to challenge IZW Champion "The Natural Born Leader" Johnny Z (@NBL_JohnnyZ).
As of press time, "The Worst in the World" Copycat (@CopycatWrestler) is still the #1 Contender and solidified that with an impressive win last week against Angel Camacho (@A_Camacho0986). Not to be outdone, former #1 Contender "Big Business" Damon Windsor (@DamonWindsor) took out "Bad" Brad Michaels (@OldSchool_Brad). With Copycat and Windsor both vying for a match against Z at "Chaotic Christmas" it's a no-brainer that they are on a collision course with each other before December 21. Could their ultimate showdown be on this week's episode? Tune in to find out.
Another wrestler who has upped his game as we close out 2013 and is once again in the thick of things is "The Captain of the Force" Double D (@IZWDoubleD). D recently scored a huge win against IZW Impact Division Champion "The Image of Fear" Kevin Morgan (@TheImageofFear) in a non-title match and proved he is still at or near the top of the food chain in IZW. D has recently been embroiled in a budding feud with Michaels that seems to be escalating week by week. But could Double D be stirring up a hornet's nest with his latest challenger? Michaels has built a legacy on ending other people's careers. IZW fans are very familiar with how deadly Michaels can be, as they only need to remember what became of former multi-time IZW Tag Team Champion Randy Price who was recently forced into retirement due to injuries suffered at the hands of Michaels.
We also learned that "Lights Out" Jordan Jacobs (@JacobsLightsOut) is on the shelf recovering from surgery due to a broken arm. The Lights Out Lounge made its return to the Impact Arena, but when will Jordan be fully healed to resume his in ring career? What does this mean for the whole IZW tag team division? Jacobs along with "Larger Than Life" Jermaine Johnson (@JermaineAboutME) are the current champions, but with Jacobs out of action for the foreseeable future, what will become of the tag titles? Will Johnson have to find a new partner to tag with in Jacobs' absence? Or will the power and influence Impact Elite wields, give What Wrestling Should Be an open-ended and undetermined time limit for when they need to have their mandatory title defense? If that is the case, then WWSB can sit on the IZW Tag Titles until 2014 when Jacobs is fully recovered.
Queen's Crown Champion Miss Diss Lexia (@missdiss_lexia) dispatched of former Champion Madame Commissioner Erica (@Lady_Of_Impact) in singles competition last week and proved beyond a shadow of a doubt that she is worthy to hold the championship. Will Angel Blue return to the Impact Arena soon to lay claim as the #1 Contender for the Queen's Crown or will Erica cook up a plan to challenge MDL once again? If Erica gets another shot, expect her to have cooked up a plan to dethrone the new champion any way she can.
Get your shot of adrenaline with "IZW Adrenaline" every Saturday night at 8pm E/7pm C on GFL.tv. No other wrestling organization on the Independent landscape carves out as much new content as IZW. Developed and cultivated in the Sooner State, IZW is second to none. Be there for every bump, bruise and jaw-dropping moment all of which have made IZW recognized around the world.
To learn more about IZW, visit us at these locations.
Website: www.izwrestling.com
Twitter: https://twitter.com/IZWWORLD
YouTube Channel: www.youtube.com/IZWOklahoma
Facebook: https://www.facebook.com/ImpactZoneWrestling
© 2004-2015 Impact Zone Wrestling. All Rights Reserved.
Website designed and maintained by Wesley Bradfield