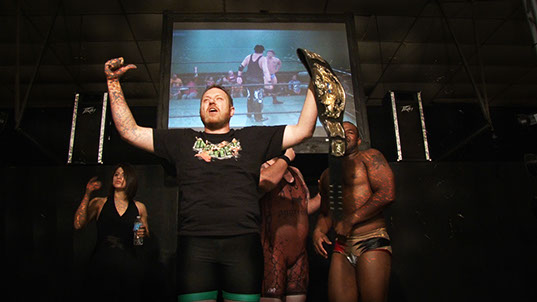 "IZW Adrenaline" returns this Saturday, November 16, with another FREE show on GFL.tv. Things took an unexpected turn during last week's main event, as the #1 Challenger to the IZW Title is now in question. With a little over a month before "Chaotic Christmas" and so much in flux, experience every bump, bruise and body slam on this thrill ride headed towards December 21.
Last week, "The Worst in the World" Copycat (@CopycatWrestler) had his #1 Contender spot on the line as he battled former #1 Contender "Big Business" Damon Windsor (@DamonWindsor). It was a back and forth affair and ended in a no contest as Impact Elite bum rushed the ring and interfered in the match going after both Copycat and Windsor. IE eventually got turned on their heads though as both Copy and Windsor were left standing when the show went off the air. IZW Champion "The Natural Born Leader" Johnny Z (@NBL_JohnnyZ), who did not enter the ring, was standing on the onstage ramp smiling from ear to ear as even though his stable mates got the short end of the stick in their ambush, Johnny Z had done what he set out to do and thrown a monkey wrench into his future challenger's plan. As of right now that seems to still be Copycat, but with the way last week ended, there's no way Windsor is going to let things stand how they are. Expect another heated confrontation from Windsor, Copycat and Johnny Z as the Master of the Mind Games, Johnny Z, continues to further his agenda at the expense of both Copycat and Windsor. And don't forget about "Bad" Brad Michaels (@OldSchool_Brad) who also has a title shot coming in the future as he won that right by eliminating Double D (@IZWDoubleD) from the Monsters Bash Battle Royal two weeks ago. The IZW Title situation is murky at best, but one thing that is crystal clear is Johnny Z is still at the top of the mountain.
Impact Elite was busy last week as they enticed another member of IZW into the fold, but this time it wasn't a wrestler it was now former head referee "The Butterscotch Stallion" Mark Wilson (@bsstallion). Wilson saw in ring time as a wrestler as well as a de facto manager and his presence was immediately felt with a pinfall victory over "The Brass Bull" IZW Wrestler (@thegods_bs) as well as the several times he interfered in Johnny Z's match against The Bronze Bull (@BronzeBull_AN).
With What Wrestling Should Be reclaiming the gold and once again the face of the IZW tag team division, what will "Larger Than Life" Jermaine Johnson (@JermaineAboutME) & "Lights Out" Jordan Jacobs (@JacobsLightsOut) have in store for Team Bull or any other team that tries to dethrone the new champions? Look for new challengers to test themselves and prepare to meet WWSB in the near future.
Speaking of champions what will new Impact Division Champion "The Image of Fear" Kevin Morgan (@TheImageofFear) have in store for any challengers to his crown? Morgan has destroyed everything in sight for months including deposing former Impact Division Champion "The Urban Legend" Drake Gallows (@DrakeBmbulmer) who has not been seen or heard from since "Halloween Hangover". Morgan won't be happy until every wrestler on the roster in left lying in a heap of their own destruction. Expect Morgan to go looking for another victim this week.
There's also the business of the Queen's Crown which now sits atop the head of Miss Diss Lexia (@missdiss_lexia) a fact Madame Commissioner Erica (@Lady_Of_Impact) expects to change sooner than later. Will the new Champion MDL be in the Impact Arena this weekend? Tune in to find out.
Get your shot of adrenaline with "IZW Adrenaline" every Saturday night at 8pm E/7pm C on GFL.tv. No other wrestling organization on the Independent landscape carves out as much new content as IZW. Developed and cultivated in the Sooner State, IZW is second to none. Be there for every bump, bruise and jaw-dropping moment all of which have made IZW recognized around the world.
© 2004-2015 Impact Zone Wrestling. All Rights Reserved.
Website designed and maintained by Wesley Bradfield