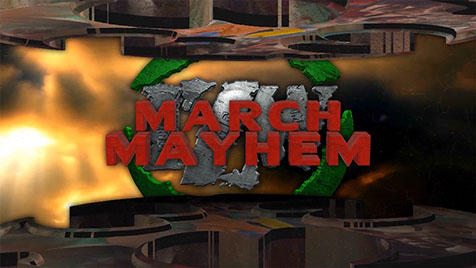 March Mayhem is here. Every title is on the line. Dreams will be realized and bodies will be broken. IZW continues its hot streak of 2013. Not only does IZW Adrenaline debut Episode 2 on March 23 to over 5.5 million viewers on The Comcast Network (TCN) spanning Pennsylvania, Washington DC, Maryland, Virginia, Delaware and parts of New Jersey, the chaos of a live iPPV is front and center. Wrestling fans from every corner of the globe are tuning in to GFL.tv to watch all of the top stars of the #1 independent wrestling organization in North America. Order March Mayhem where feuds will be settled and legends will be born.
In the main event, IZW Champion The Convict defends his crown against the man he defeated at Violent Valentine, Double D. The vendetta between champion and challenger is hotter than ever as these two have been on a collision course of epic proportions for all of 2013. With The Convict seeming to have Double D's number in recent confrontations, what can D possibly do to derail this unstoppable freight train? "The Captain of the Force" will need to dig down deeper than he ever has in his entire life if he is to pull the upset win of the century and score a pinfall on The Convict. "The World's Best" will have a tall order indeed as not only has The Convict been on a rampage since his debut in IZW, but he has set his sights on Double D for the last few months and D has the battle scars to prove it. In this David VS Goliath matchup who will score the ultimate victory and be the IZW Champion when the dust settles?
In other can't miss action, Impact Division Champion Johnny Z faces Jermaine Johnson, Damien Mote and Copycat in a Fatal Four Way Falls Count Anywhere Match where anything can and will happen. All four of these men have been locked in a feud with each other in one way or another for weeks and this match is set up to prove who the best wrestler of the bunch is. "The Natural Born Leader" Johnny Z has had his wrestling boots on lately, putting the whole territory on notice that he is more than just the owner of IZW, he is a cagey veteran with years of experience and one of the toughest tests for any professional grappler. His opponents are on par as they have all held championship gold in one form or another in IZW, with Johnson being the most decorated as a 2X IZW Champion, plus a former Impact Division and Tag Team Champion. Johnson looks to once again claim the Impact Division Title which he helped make famous by having terrific Impact Rules Matches when he wore the belt. Johnson always saves his best for specialty matches, so look for the "Leader of the Hype Section" to do something in the ring that's never been done in the sport. Not to be outdone, Damien Morte will also be looking to make an Impact in the match and prove once again that he is truly a human crash test dummy with an unbreakable Gumby type of body, combined with a sadistic, heartless outlook for his competitors. Morte believes he was screwed out of the title in an impromptu match set up by Co-Commissioner Shawn McHale and will be looking for revenge against Z and Johnson who Morte has been feuding with for the past several months. Someone also looking to get a bit of retribution is "The Worst in the World" Copycat as at Violent Valentine Copy was stripped of his Tag Team Titles by Johnny Z. Copycat has turned over a new leaf, exhibiting a violent disposition that's made Copycat a big-time player in IZW. He will need that callous outlook in the ring if he is going to have a shot at capturing the Impact Division Title because this is a murderers' row of talent in this bout.
"The Bronze Bull" Aaron Neil and "The Brass Bull" IZW Wrestler square off in a Tables Match. This bout is really the story of teacher versus student. For years Neil has been a linchpin inside the IZW ring. A 6X IZW Champion, the most in history, speaks for itself. Since taking Starr under his wing as his disciple, Starr has reached new landmarks in his career that would have been impossible without the help of Neil. But recently, Starr has begun to outshine his guru and that has rubbed Neil the wrong way. Did Neil teach Starr everything he knows? That question will be answered definitively one way or another as Neil now finds himself in one of the toughest matches of his career as he battles his protégé, IZW Wrestler who some observers believe has passed his teacher up inside the ring. Starr's career has skyrocketed since he cut ties with Neil and Impact Elite and there seems to be nothing in his way to slow him down. Could Neil be the insurmountable barrier for Starr or is there too much steam on this locomotive to be stopped? With tables involved, you never know what could happen.
The Birds of Prey (Phoenix & Falcon) defend their Tag Team Championships against Big Business (Kevin Morgan & Damon Windsor) in an intriguing bout. The Birds have been great ever since their debut in IZW, as no one has been able to unlock their secrets or crack their code. But Big Business is hell bent on getting the upper hand in his bout. Windsor has been scouring the Impact Arena for some insight, anything that will give BB the extra advantage they need to dethrone the Birds. If Morgan and Windsor can find the secret elixir that they desperately seek there will be nothing on planet earth that will be able to stop them at March Mayhem including the current Tag Team Champions, The Birds of Prey.
"Lights Out" Jordan Jacobs continues his feud with former IZW Champion O'Malley. These two have gone back and forth at each other for months and each time they wrestle, a pair of brass knuckles seems to find its way into the match. Jacobs is coming off a great victory at Violent Valentine against O'Malley, but the big man is not one to let a loss like that stand. Look for this match to be brutal from the get-go and when the final bell tolls having a conclusion to this epic rivalry between two of the greatest wrestlers in the territory.
To learn more about IZW, visit us at these locations.
Website: www.izwrestling.com
Twitter: https://twitter.com/IZWWORLD
YouTube Channel: www.youtube.com/IZWOklahoma
Facebook: https://www.facebook.com/ImpactZoneWrestling
© 2004-2015 Impact Zone Wrestling. All Rights Reserved.
Website designed and maintained by Wesley Bradfield