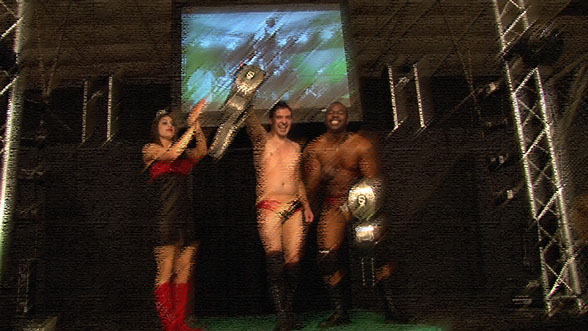 In a show of true character and honor, IZW announced that the month of June will be Moore Recovery Month with 100% of the revenue collected, which includes ticket sales, merchandise, and concession sales, being donated to the American Red Cross to ease the burden and help the people of Moore, Oklahoma who were devastated by the recent tornadoes. The charity work began with this week's episode of IZW Adrenaline.
IZW has been working closely with the Red Cross since the tornadoes hit and the Red Cross wanted to use the worldwide audience of IZW to deliver a message to wrestling fans everywhere. From Daniel Farrell, "The Red Cross has now taken an unprecedented leadership role in the tornado recovery effort. Ordinarily, the Red Cross provides assistance with relief, but now will stay in Moore to aid in the recovery effort. Since May 20th, every $10 donation text made will go to the Oklahoma Tornado Recovery." There are plenty of ways to help the victims of Oklahoma and as we witnessed on May 31, the tornado season is still not over. Now is the time to make an Impact! To find out what you can do to help the people of Moore, email IZW at moorerecoverymonth@izwrestling.com.
Last week, we saw the crowning of new champions as "What Wrestling Should Be" Jermaine Johnson and "Lights Out" Jordan Jacobs were able to do the seemingly impossible and dethrone the Birds of Prey (Falcon & Phoenix). The match had its controversies but the end result was a victory for Johnson and Jacobs as Impact Elite grew even stronger as a stable as they now control the IZW Championship and now the Tag Team titles. But things won't get any easier for J&J as the Birds will be looking for retribution and the East-West Playaz (Soto Miyagi & Midnite Rider) are hot on their trail, believing that they can pull another upset and defeat J&J and do it this time in tag team competition with the titles on the line.
In other news, IZW Champion "The Natural Born Leader" Johnny Z continues his merciless assault on Double D as Johnny Z and "The Image of War" Kevin Morgan defeated the team of Double D and "Big Business" Damon Windsor in tag team action in last week's main event. The festivities didn't end there though as after the match Impact Elite put the boots to Double D and Windsor a little more. With Evolution on the horizon on July 20 and an Impact Chamber Match anchoring the iPPV, you can bet there are plenty of bodies that will be broken from that match. But how many will be destroyed before IZW can even get to that point? Johnny Z already threw down the gauntlet and announced his 5-man team (Z, Johnson, Jordan, Morgan, and The Convict) and put the ball in Double D's court to assemble a team worthy enough to face Impact Elite. There is still time left for D to rally the troops, but when he is already fighting an uphill battle against Impact Elite, most of his time is being spent on surviving through the night while at the Impact Arena.
The Convict once again defeated The Bronze Bull inside the ring. Bull has come close on a couple of occasions but The Convict and Erica have always been one step ahead. Has The Bronze Bull finally had enough? Something tells me nothing will quench his burning fire to see The Convict and Erica pay for their misdeeds and transgressions. Bull has never backed down from a challenge in his career and that won't change any time soon.
How is Damien Morte healing up? Will he be ready for in ring action in the near future? What else does "Bad" Brad Michaels have in store for "The Old School Sucka" Randy Price? Last week Michaels served Price with a lawsuit for bodily injury and wages lost and promised to take more legal action in the weeks to come. And what about Co-Commissioner Shawn McHale? He has been away from the Impact Arena for weeks now. Will he finally return and add some resistance and opposition to Impact Elite or will he be out of the country yet again while Impact Elite turns Lawton into its own personal battleground?
All these questions and more will be answered on this week's live edition of IZW Adrenaline!
Are you tired with today's lackluster wrestling? If you are, no problem, get your shot of adrenaline with IZW Adrenaline every Saturday night at 8pm ET on GFL.tv. No other wrestling organization on the Independent landscape carves out as much new content as IZW. If you're looking for a rough and tumble style of professional wrestling look no further than IZW. Developed and cultivated in the Sooner State, IZW is second to none. Be there for every bump, bruise and jaw-dropping moment all of which have made IZW recognized around the world.
Website: www.izwrestling.com
Twitter: https://twitter.com/IZWWORLD
YouTube Channel: www.youtube.com/IZWOklahoma
Facebook: https://www.facebook.com/ImpactZoneWrestling
© 2004-2015 Impact Zone Wrestling. All Rights Reserved.
Website designed and maintained by Wesley Bradfield