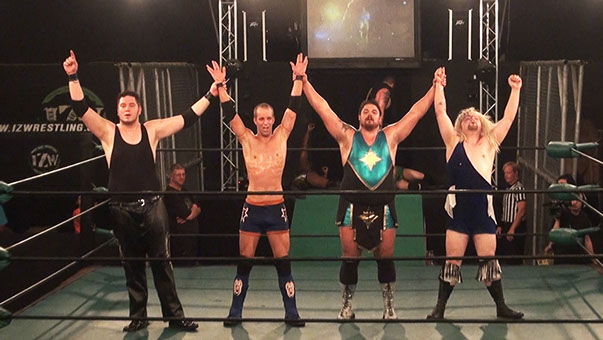 IZW continues Moore Recovery Month with 100% of the revenue collected, which includes ticket sales, merchandise, and concession sales, being donated to the American Red Cross to ease the burden and help the people of Moore, Oklahoma who were devastated by the recent tornadoes as IZW heads into the fifth and final week of their outreach for the victims.
Last week, we saw the reappearance of IZW Champion "The Natural Born Leader" Johnny Z who was returning to Lawton after a very successful two-week European tour. Johnny Z picked up right where he left off as he was intent on pushing his weight around in IZW and showing that he was still the alpha male in the promotion. Impact Elite, at the behest of Johnny Z took over the majority of IZW Adrenaline as they brutalized a laundry list of IZW Superstars including Damon Windsor, The Bronze Bull, "The Brass Bull" IZW Wrestler and Double D and in doing so, disrupting several ongoing matches causing multiple disqualification last week.
It all led to a huge 8-man tag team bout in the main event, in which the aforementioned four, loosely dubbed Team Bull, scored a pinfall on Z, Jermaine Johnson, Jordan Jacobs and Kevin Morgan when Double D hit his flying crossbody on Johnny Z in the middle of the ring. This recent turn of events has tossed Impact Elite on its ear as Johnny Z didn't see this new coalition coming. The writing is on the wall and although nothing is official, it looks like Windsor, The Bronze Bull, Starr and Double D will be facing Impact Elite's Team Erica (Z, Johnson, Jacobs, Morgan and The Convict) at Evolution on July 20 in the 10-man Tag Team Impact Chamber Match. But there is still a wildcard at play because Team Bull is yet to complete its five-man roster as there is still one spot open. And although rumors have run rampant since last Saturday, the final competitor in the Impact Chamber Match is still unknown at press time. Whoever comes on board will need to be as motivated to strike back at Johnny Z and Impact Elite as Windsor, Bull, Starr and Double D as Impact Elite has never been more dangerous and the bout on July 20 will not be for the faint of heart. Could we find out more about the final entrant in the Impact Chamber Match this weekend?
In other ongoing news, we still aren't any clearer on finding out who injured Impact Division Champion Damien Morte nor do we know of the Champ's whereabouts or physical condition. Copycat has professed his innocence, but it's hard to believe anything "The Worst in the World" says as fact. And what about the Randy Price VS Brad Michaels feud that has raised the stakes every week since Michaels let Price and the world know that he has filed a lawsuit against Price for injuries suffered inside the ring. Will Michaels looks to add to his ongoing lawsuit by disclosing new "facts" and if so, what will Price, who has been on a rampage as of late, do about it? IZW has recently added some new talent to the roster including Angel Camacho, Drake Gallows and Christopher Fury. Who else will make an Impact on this star-studded card?
All these questions and more will be answered on this week's live edition of IZW Adrenaline!
Are you tired with today's lackluster wrestling? If you are, no problem, get your shot of adrenaline with IZW Adrenaline every Saturday night at 8pm ET on GFL.tv. No other wrestling organization on the Independent landscape carves out as much new content as IZW. If you're looking for a rough and tumble style of professional wrestling look no further than IZW.
Developed and cultivated in the Sooner State, IZW is second to none. Be there for every bump, bruise and jaw-dropping moment all of which have made IZW recognized around the world.
Website: www.izwrestling.com
Twitter: https://twitter.com/IZWWORLD
YouTube Channel: www.youtube.com/IZWOklahoma
Facebook: https://www.facebook.com/ImpactZoneWrestling
© 2004-2015 Impact Zone Wrestling. All Rights Reserved.
Website designed and maintained by Wesley Bradfield