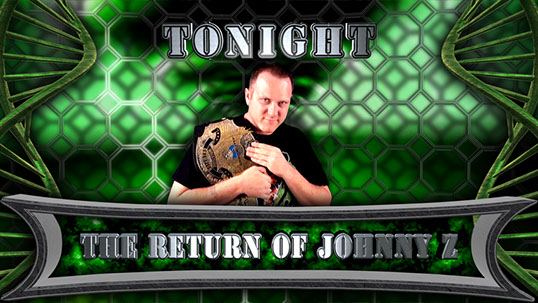 IZW continues Moore Recovery Month with 100% of the revenue collected, which includes ticket sales, merchandise, and concession sales, being donated to the American Red Cross to ease the burden and help the people of Moore, Oklahoma who were devastated by the recent tornadoes as IZW heads into Week 4 of their outreach for the victims.
Last week, we saw The Bronze Bull and The Brass Bull embrace just as "The Gods" had predicted many centuries ago. Brass Bull came out to aide Bronze Bull in a 2 on 1 ambush by IZW Tag Team Champions Jermaine Johnson and Jordan Jacobs. The Bulls bent Johnson and Jacobs in half with a double Boston crab and showed that there was indeed a formidable team coming together on the horizon to battle Team Erica at Evolution in an Impact Chamber Match.
Speaking of Erica, she defeated Angel Blue in a match that lit the Impact Arena on fire as both women pulled out all the stops and gave the fans a brilliant main event last week. Will Blue follow up her appearance in IZW by showing up again at the Impact Arena this week? It's been months since Erica had a formidable foe and Blue provided that and more last week.
We do know who will be returning to IZW this week and that's none other than IZW Champion Johnny Z, who comes back to Lawton after an extensive overseas tour which saw him pick up a Humanitarian Award among other accolades. Z will be on fire once again as he arrives home and gets to flaunt his Championship in the faces of the IZW faithful. Don't miss what he has to say next.
In other news, "Big Business" Damon Windsor was once again on the wrong side of a whipping as former tag team partner "The Image of War" Kevin Morgan throttled Windsor in an ambush ending with Morgan giving Windsor a Detonator. Morgan's career has had a renaissance of sorts ever since dropping Windsor and joining Johnny Z and becoming the bodyguard for Impact Elite. Will Morgan once again look to cut a path of destruction through IZW and if so, who will be there to stand against him? You've also got to believe that Windsor is getting sick of being on the wrong end of these clashes. Will Windsor devise a plan that will finally even the odds in his favor?
Another wrestler who has been standing on his own, albeit with very different results, is Randy Price who has had to withstand an ongoing lawsuit at the hands of "Bad" Brad Michaels. Price has been determined to not let it impact his in ring wrestling and so far it hasn't, but the CEO of the OSA knows more than one way to skin a cat. Expect Michaels and his lawyer to have more baseless and unfounded accusations pointed towards Price as Michaels continues to heal up his injured neck and look for a way to make Price's life a living hell.
All these questions and more will be answered on this week's live edition of IZW Adrenaline!
Are you tired with today's lackluster wrestling? If you are, no problem, get your shot of adrenaline with IZW Adrenaline every Saturday night at 8pm ET on GFL.tv. No other wrestling organization on the Independent landscape carves out as much new content as IZW. If you're looking for a rough and tumble style of professional wrestling look no further than IZW. Developed and cultivated in the Sooner State, IZW is second to none. Be there for every bump, bruise and jaw-dropping moment all of which have made IZW recognized around the world.
Website: www.izwrestling.com
Twitter: https://twitter.com/IZWWORLD
YouTube Channel: www.youtube.com/IZWOklahoma
Facebook: https://www.facebook.com/ImpactZoneWrestling
© 2004-2015 Impact Zone Wrestling. All Rights Reserved.
Website designed and maintained by Wesley Bradfield