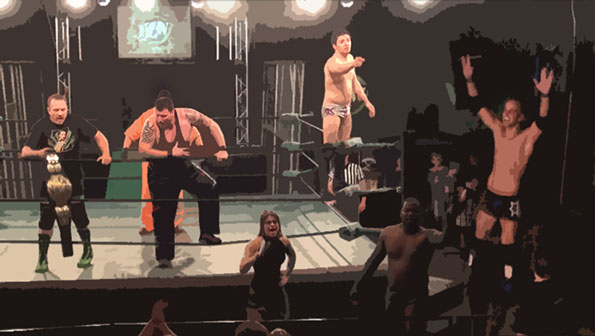 In a show of true character and honor, IZW announced that the month of June will be Moore Recovery Month with 100% of the revenue collected, which includes ticket sales, merchandise, and concession sales, being donated to the American Red Cross to ease the burden and help the people of Moore, Oklahoma who were devastated by the recent tornadoes. The charity work all starts with this week's episode of IZW Adrenaline. Now is the time to make an Impact! To find out what you can do to help the people of Moore, email IZW at moorerecoverymonth@izwrestling.com.
Last week, Damon Windsor was brutalized for the second week in a row by Impact Elite. The question is not if he will be able to return to the Impact Arena, but will he even be able to wrestle again? Windsor's former tag team partner Kevin Morgan showed what he was made of in the main event against Double D as they had a grueling bout and Morgan took Double D to places few ever do. But in the end, Morgan showed his true colors as he couldn't beat Double D one on one and his cohorts in Impact Elite had to come down to interfere in the match to keep Morgan from getting pinned.
Speaking of IE, the new tag team of Jordan Jacobs and Jermaine Johnson looks unstoppable; on paper that is. Both were defeated in singles competition last week by the East-West Playaz (Soto Miyagi and Midnite Rider). Jacobs is coming off winning the 2013 Impact Player of the Year tournament and Johnson is a former 2-time IZW Champion. For them to lose to Miyagi and Rider respectively has to be a crushing blow to both men's egos. On top of that, Jacobs is using his #1 Contender status to go after the IZW Tag Team Titles, currently held by the Birds of Prey (Falcon & Phoenix). With several challenges on the horizon and also in the present for the team of Jacobs and Johnson, they may have bitten off more than they can chew.
In other news, last week we finally got to see the gruesome footage of the hit and run attack that put Impact Division Champion Damien Morte in the hospital. It was a sight to see as Morte's body bounced off of the speeding car and then onto the pavement. Morte remains hospitalized at an undisclosed location for fear of further attacks from his unknown assailant. But take this to the bank, once Morte is healed up, he will be on a rampage to find whoever laid him up. And when that happens the hunted will become the hunter and there will be bloodshed in copious amounts.
Expect The Bronze Bull to continue his path of destruction as he looks to vie for a rematch against his arch rival, The Convict. Bull is determined to do whatever is necessary and cut through whoever gets in his way in order to get a rematch with the man that put him down and out at Coronation.
And let's not forget about the mastermind of Impact Elite, "The Natural Born Leader" Johnny Z. Last week Impact Elite dodged a bullet with Shawn McHale being absent from the Impact Arena. McHale had promised a big surprise for Z and Company. Will McHale show up this week? And if he does, what will he have in store for the most vicious, corrupt band of thugs in professional wrestling?
All these questions and more will be answered on this week's live edition of IZW Adrenaline!
Are you tired with today's lackluster wrestling? If you are, no problem, get your shot of adrenaline with IZW Adrenaline every Saturday night at 8pm ET on GFL.tv. No other wrestling organization on the Independent landscape carves out as much new content as IZW. If you're looking for a rough and tumble style of professional wrestling look no further than IZW. Developed and cultivated in the Sooner State, IZW is second to none. Be there for every bump, bruise and jaw-dropping moment all of which have made IZW recognized around the world.
Website: www.izwrestling.com
Twitter: https://twitter.com/IZWWORLD
YouTube Channel: www.youtube.com/IZWOklahoma
Facebook: https://www.facebook.com/ImpactZoneWrestling
© 2004-2015 Impact Zone Wrestling. All Rights Reserved.
Website designed and maintained by Wesley Bradfield