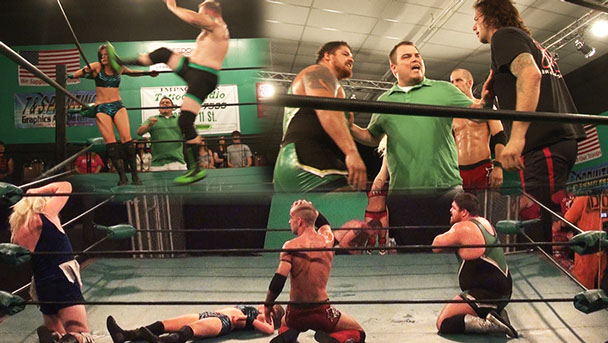 Things are gearing up for the month of July in IZW. With EVOLUTION less than three weeks away this Saturday's event is can't miss TV!
Last week, the return of Brandon Bishop sent shock waves through IZW and definitely added a twist to EVOLUTION and the main event, the Impact Chamber Match, as the fifth and final member of Team #1 (Shawn McHale's group) was penciled in. Bishop's feud with Impact Elite leader and IZW Champion Johnny Z is legendary as the two have gone back and forth for over a decade and nearly burned down the territory of South Oklahoma and North Texas in a clash that carried over into two states. These two combustible personalities are only weeks away from being locked in a steel cage along with eight other combatants (Bishop's teammates include Double D, Damon Windsor, The Bronze Bull and The Brass Bull), (Z's teammates, dubbed Team Erica, include Jermaine Johnson, Jordan Jacobs, The Convict and Kevin Morgan). When that happens all bets are off as this will be the most violent, ferocious and vicious match in IZW history.
But before we can get to EVOLUTION on July 20 there is still the matter of business of July 6. Now that Z and the rest of IE have had a week to digest everything that happened, what will be their next move? Co-Commissioner Shawn McHale kept his cards close to the vest for weeks, announcing Bishop's return to IZW at the perfect time and place. Will Madame Commissioner Erica have a counter this week?
In other news, Randy Price and Brad Michaels are set to square off one more time at EVOLUTION in a Student VS Teacher Match. Last week, Price wrestled Michaels' cohort, Bryan Cruize, in an Impact Rules Match in what turned out to be only the beginning of a very bad night for Cruize. During the bout, Michaels summarily dismissed Cruize from the Old School Assassins via a piledriver on a steel chair. Now with Price and Michaels embroiled in a true one on one match for the first time since Michaels' return to IZW, the odds have to swing in the favor of Price, or do they? Michaels' showed he has no remorse or pity in his entire being as he destroyed his former partner Cruize in devastating fashion because Cruize was not getting the job done. What will he do to his most hated rival Price? Find out what transpires next as these two are merely weeks away from getting the opportunity to rip each other's heads off.
What other happenings will unfold on July 6? IZW Impact Division Champion, Damien Morte is still out of action with his unknown assailant still at large. Who is next in line for newcomer Angel Camacho who has been on a roll as of late? Copycat finds himself in the middle of an escalating feud with another newcomer, Drake Gallows. Will these two have another altercation in the parking lot or take their grudge to the ring? There are still two more shows before EVOLUTION. Don't miss a second!
Are you tired with today's lackluster wrestling? If you are, no problem, get your shot of adrenaline with IZW Adrenaline every Saturday night at 8pm ET on GFL.tv. No other wrestling organization on the Independent landscape carves out as much new content as IZW. If you're looking for a rough and tumble style of professional wrestling look no further than IZW. Developed and cultivated in the Sooner State, IZW is second to none. Be there for every bump, bruise and jaw-dropping moment all of which have made IZW recognized around the world.
Website: www.izwrestling.com
Twitter: https://twitter.com/IZWWORLD
YouTube Channel: www.youtube.com/IZWOklahoma
Facebook: https://www.facebook.com/ImpactZoneWrestling
© 2004-2015 Impact Zone Wrestling. All Rights Reserved.
Website designed and maintained by Wesley Bradfield