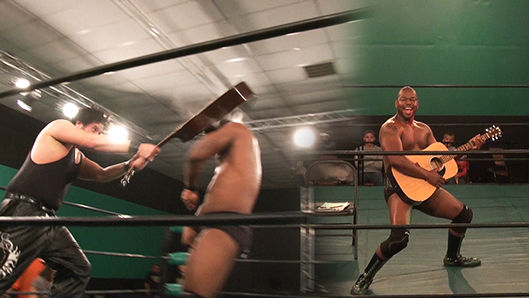 "IZW Adrenaline" returned to GFL.tv with another one-blow KO, two hour episode of Oklahoma's premier wrestling organization. There was plenty of fallout from last week's show and many unanswered questions still loomed in the Impact Arena as "Chaotic Christmas" on December 21 inched closer to Lawton.
Things kicked off with a fire storm as "The Urban Legend" Drake Gallows (@DrakeBmbulmer) took on the returning O'Malley (@IZWHateMachine) in an Impact Rules Match. In the beginning, they traded leg kicks with O'Malley getting the better of the exchanges as he finally sent Gallows out of the ring with a right hand to the face. On the outside, O'Malley tossed Gallows into the guardrail, steel steps and chopped him across the neck in a display of brutality. O'Malley continued to exert his will on Gallows until missing with a splash against the ring post. Gallows fired back with right hands and kicks to the chest before dropping O'Malley with a head kick. Gallows added to that with a suicide dive as O'Malley crashed into the steel guard rail. Later, still on the outside, O'Malley destroyed Gallows with a chair shot to the head. Back in the ring, Gallows tried to change the tide with a double axe handle to O'Malley's back but suffered another series of neck chops moments later. After a back splash miss by O'Malley, Gallows connected with a cannonball splash in the corner. Gallows went for the move again but missed and was head butted out of the ring by O'Malley. Once action resumed in the squared circle, O'Malley connected with a suplex, dodged a moonsault from Gallows and hit a senton for the pinfall showing that he still is a force to be reckoned with in IZW in his return.
Up next, "Larger Than Life" Jermaine Johnson (JermaineAboutMe) came out with a guitar in hand to perform a one man concert. Johnson's musical talent was up for debate, but he did have the crowd glued to his every word as he sung a series of songs including "That's Why We Are Champions" about each member of Impact Elite. His second song, "I Am Not A Diva" was another catchy tune, followed by his final tune, a "heartfelt song" for AnnaLynn Storm (@AnnaLynnIZW) titled "She Put Herself In The Way". Finally, "Big Business" Damon Windsor (@DamonWindsor) put an end to the ear bleeding noise from Johnson and rushed to the ring getting a takedown and pummeling away at Johnson before trying to knock Johnson's head off with the guitar. Madame Commissioner Erica (@Lady_Of_Impact) then came out and made a match for the main event of the evening as Windsor would face Johnson and The Convict in a Triple Threat Match!
IZW Impact Division Champion Kevin Morgan (@TheImageofFear) took on the resilient Soto Miyagi next. Miyagi tried his karate on Morgan but that was snuffed out immediately as Morgan tossed Miyagi across the ring like a small child. Morgan added a two handed power bomb for good measure as Miyagi's body bounced off the canvas. A series of head butts only made Miyagi's night worse as he slumped over in the corner. But nobody in IZW has a bigger spirit than Miyagi and he battled back with three flying axe handles to Morgan's head moments later. On his fourth attempt, Morgan caught him in midair and tossed Miyagi over his shoulders like a sack of potatoes. Morgan locked on a neck crank before tossing Miyagi outside the ring. On the outside, Miyagi had a quick comeback with kicks to Morgan's head and neck before the fight returned to the ring where Morgan hoisted Miyagi up into a torture rack and tossed him into the turnbuckle head first. Once again, Miyagi battled back with a crane and tornado DDT. Miyagi went for his finisher, the Shining Miyagi, but Morgan countered with a Detonator and got the pin in brutal fashion. After the match, for the second week in a row, The Midnite Rider took liberties with his former tag team partner, as he decimated Miyagi with a broom and literally swept Miyagi out of the ring.
The Midnite Rider stayed in the ring as he took on "The Captain of the Force" Double D. Rider and D showed off their technical wrestling skills as they traded arm locks, head locks and one upped each other with various reversals giving the fans in the Impact Arena some old school, efficient grappling that you don't seem much of these days. Rider got the upper hand by throwing a right hand and getting a body slam. D upped his game with a couple flying forearms that dropped Rider. Rider got up and went back to his methodical side as he snatched a rear chin lock on D. But once again, the faster Double D rose to his feet and connected with a head scissors and leg lariat in a nice one-two combo. A springboard missile drop kick followed. Rider countered a splash with a knee to the face as D crumbled to the mat. Rider worked D over in the corner until a flying knee and enziguri kick dropped Rider in this back and forth battle. D was able to hit his high crossbody after planting Rider down again with a series of knees to get the pinfall. After the bout, D was celebrating and Rider attacked him from behind. Just as Rider was about to hit Double D in the head with his broom, Soto Miyagi rushed to the ring and ran Rider off.
In the main event, Impact Elite (The Convict & Jermaine Johnson) and Damon Windsor had their Triple Threat Match which turned out to be a glorified handicap match. Windsor came out on fire dropping Johnson but when Windsor went for his back elbows in the corner on Convict he was slumped by the King of the Yard. Then Convict and Johnson issued a two on one beating on Windsor that was not for the faint of heart. Convict choked Windsor mercilessly as Johnson jawed with the crowd. Windsor broke a double clothesline attempt that sent Convict and Johnson colliding into each other head first. Windsor then cleared the ring of both members of IE as the crowd roared with approval. Johnson re-entered the ring only to get clotheslined and dropped with back elbows in the corner as Windsor was as ruthless as ever. But the Convict intervened and Windsor was right back on the mat getting kicked in the head by Convict and Johnson. Windsor took a splash by Convict in the corner followed by massive forearms to the spine, as Johnson taunted Windsor and cleaned up the scraps. Every time Windsor would mount a small comeback he was decimated by a forearm to the spine that rattled his motor skills leaving him a sitting duck for more punishment. Impact Elite just had the numbers, plain and simple. Windsor did continue to fight through all of the adversity reversing a suplex attempt by Johnson and executing one of his own. But once again, The Convict was there to make sure the odds were uneven as he hit Windsor from behind and the cycle started all over with Windsor taking a two on one thrashing. More chokes, kicks and punches from IE left Winsor in a heap as he was barely conscious at this point. Johnson missed with a missile kick and instead hit Convict as the light at the end of the tunnel grew bigger for Windsor. Windsor then splashed Johnson in the corner followed by connecting full force with back elbows to the Convict. A boot to the chest put Convict on his butt. But Convict retaliated with a splash that took out Windsor and Johnson. Later, Johnson took too long for an ES2 attempt and was knocked silly by Windsor. Windsor tried to do the same to The Convict but instead got a body slam for his troubles. Yet Windsor kicked out at two. Convict went for a splash from the second rope to finish Windsor off but got a boot to the face followed by a choke slam! Johnson grabbed his guitar from earlier in the night and went for Windsor's head but missed and ate a forearm/elbow instead. Windsor picked up the guitar and smashed it across the head of Johnson getting the 1-2-3 in a fantastic end to the main event.
Nobody does it better! Watch all the feuds and all the rivalries inside and outside of the ring. Tune in to the Southwest's premiere wrestling federation and find out what will happen next. Watch professional wrestling like it's supposed to be, rough and tumble and always in HD at GFL.tv as IZW continues to change the wrestling world!
To learn more about IZW, visit us at these locations.
Website: www.izwrestling.com
Twitter: https://twitter.com/IZWWORLD
YouTube Channel: www.youtube.com/IZWOklahoma
Facebook: https://www.facebook.com/ImpactZoneWrestling
© 2004-2015 Impact Zone Wrestling. All Rights Reserved.
Website designed and maintained by Wesley Bradfield