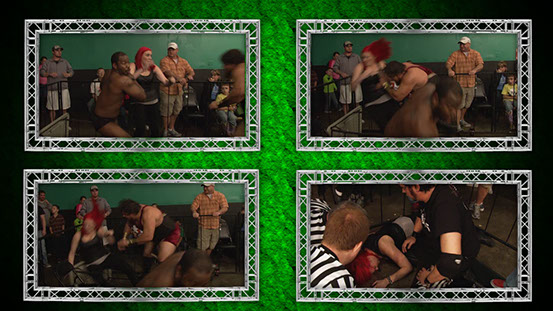 "IZW Adrenaline" returns this Saturday to kick off the final month of 2013 as everyone is gearing up for "Chaotic Christmas". Last week's episode ended with a shocker as an innocent bystander was in the wrong place at the wrong time. The IZW Title Match on December 21 also came in to focus as Co-Commissioner Shawn McHale laid down the law which left IZW Champion "The Natural Born Leader & Savior of Wrestling" Johnny Z (@NBL_JohnnyZ) in a very bad mood. There's never been a better time to tune in to IZW as the stars are all aligned and we barrel down the road towards "Chaotic Christmas" where every wrong has a chance to be rectified.
Last week, Shawn McHale made the huge announcement that the main event at "Chaotic Christmas" would be a Triple Threat Match between IZW reigning and defending Champion, Johnny Z versus "Big Business" Damon Windsor (@DamonWindsor) and "Worst in the World" Copycat (@CopycatWrestler). McHale was finally able to settle the specifics of the match, but as far as how it is going to turn out is anyone's guess. A Triple Threat Match by its very nature is unpredictable and always full of surprises. These three men are on a collision course with one another and for the first time in a very long time, there doesn't appear to be a wild card Z can play to get himself out of trouble. With less than three weeks until this epic end of the year matchup, you can bet all three athletes in this bout will have something significant to say and do at the Impact Arena.
"Larger Than Life" Jermaine Johnson (@JermaineAboutME) and "The Butterscotch Stallion" Mark Wilson (@bsstallion) defended the IZW Tag Titles against Team Bull but what was most significant coming out of that match was the horrific injury IZW ring announcer AnnaLynn Storm (@AnnyLynnIZW) suffered as she was speared into the guardrail accidently by The Bronze Bull (@BronzeBull_AN). Bull had his sights set on Johnson, but Johnson pushed Storm in the way at the last second and she felt the full weight of Bull's power. Storm remained motionless on the ground as "IZW Adrenaline" went off the air. Bull was shaken up at what he had done and Damon Windsor came out from the back to check on the well-being of Storm, but as of press time, nobody knows her condition.
Last week the KC Wolves (Luke Langley & Graham Bell) took on Johnny Z in a Triple Threat Match and although these two were competitors in the match, it was clear that they will add a new dimension to the tag team division. Their scientific wrestling will be hard to match. You can add another budding duo to the mix as "Big, Bad & Sexy" Angel Camacho (@A_Camacho0986) introduced his cousin, Roberto Camacho, to the IZW World. Both Camachos throw some of the best suplexes in the game and if they set their sights on the IZW Tag Team Titles, they just might reach that goal sooner than later.
Get your shot of adrenaline with "IZW Adrenaline" every Saturday night at 8pm E/7pm C on GFL.tv. No other wrestling organization on the Independent landscape carves out as much new content as IZW. Developed and cultivated in the Sooner State, IZW is second to none. Be there for every bump, bruise and jaw-dropping moment all of which have made IZW recognized around the world.
To learn more about IZW, visit us at these locations.
Website: www.izwrestling.com
Twitter: https://twitter.com/IZWWORLD
YouTube Channel: www.youtube.com/IZWOklahoma
Facebook: https://www.facebook.com/ImpactZoneWrestling
© 2004-2015 Impact Zone Wrestling. All Rights Reserved.
Website designed and maintained by Wesley Bradfield