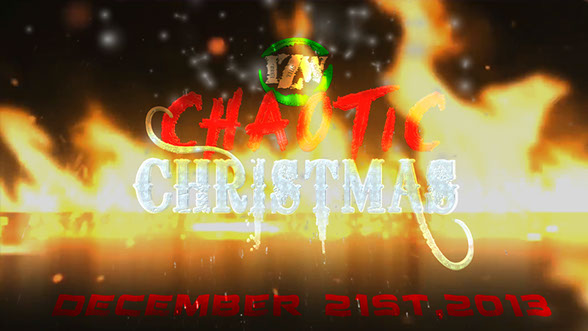 "Chaotic Christmas" is now over, but what about the fallout from the mega iPPV? Old Faithful, "The Natural Born Leader & Savior of Wrestling" Johnny Z (@NBL_JohnnyZ) managed to come out of his Triple Threat Match still the IZW Champion but a new Champion was crowned in the Impact Division. "IZW Adrenaline" is back this Saturday with the final iPPV of the year. If you are a fan of professional wrestling, you can't miss the final exclamation point of 2013 with the rowdiest federation in the land.
Last week, Johnny Z showed why he is the fiercest IZW Champion in history as he took out not one, but two legitimate threats to his title reign by defeating "Big Business" Damon Windsor (@DamonWindsor) and "The Forgotten Champion" Copycat (@CopycatWrestler). Windsor and Copycat both had opportunities to dethrone Z, but in the end, it was a Big Boot to Copycat that sealed the deal and kept the IZW Title in the clutches of Johnny Z. What will Z have in store for the final "IZW Adrenaline" of 2013? As for where Windsor and Copycat go from here, well they have to get back in line, because there is already a #1 Contender to the IZW Title.
"Bad" Brad Michaels (@OldSchool_Brad) defeated Double D (@IZWDoubleD) to retain his #1 Contender status. It was a huge blow to the IZW World, but Michaels matched Double D at every turn and surpassed him at the end with a superkick right to the jaw. For newer fans to IZW, they learned what longtime fans know. Brad Michaels is an Old School Assassin for life. Michaels is one of the most technically proficient grapplers in North America. There are no wasted moves with Michaels and he defeated a wrestler in Double D who can go against anyone on the planet. This feud looks finished for now as Michaels moves on to the #1 Contender spot. As to how that will play with IZW Champion, Johnny Z is still unknown, but Michaels did what he had to do and has previously showed no dilemma in challenging Z. Hopefully more light will be shed on when Z and Michaels will lock horns as it will be a match between two ornery, sons of guns.
Impact Elite in the form of "Larger Than Life" Jermaine Johnson (@JermaineAboutME) and The Convict retained the IZW Tag Team Titles by defeating Team Bull: The Bronze Bull (@BronzeBull_AN) & "The Brass Bull" IZW Wrestler (@thegods_bs). What was alarming about the bout was the fact that "The Resurrecter of Reality" Striker (@strikerokb) interfered in the match by giving The Bronze Bull The Stroke and allowing Johnson to pick up the pinfall. Striker is still hot about Bull spearing AnnaLynn Storm (AnnaLynnIZW) and showed that he blames Bull and not Johnson (who pushed Storm in the line of fire) for Storm's injury. Expect WWSB to heap burning coals on the situation this Saturday as they celebrate still having the championships.
"The Urban Legend" Drake Gallows (@DrakeBmbulmer) once again claimed the Impact Division Championship by defeating former Champion "The Image of Fear" Kevin Morgan (@TheImageofFear), O'Malley (@IZWHateMachine) and Angel Camacho (@A_Camacho0986) in a Fatal Four Way. Gallows has been involved in some spectacular battles in the Impact Division and closes out the year as the 2X Champion. Gallows doesn't get any time off to celebrate though as he will be facing Camacho in singles competition this Saturday.
Miss Diss Lexia (@missdiss_lexia) defeated Erica (@Lady_Of_Impact) to hold on to the Queen's Crown after exhibiting some strong wrestling combined with a violent side that matched Erica's vicious nature. MDL is now 2-0 against Erica in their last two meetings. Anyone familiar with IZW knows it won't end there. Erica will stop at nothing until she gets what she believes she is owed, the Queen's Crown atop her head once again. But for now, MDL has proven that is going to be a much tougher challenge then Erica or Impact Elite ever imagined as MDL is at the head of the table.
Get your shot of adrenaline with "IZW Adrenaline" every Saturday night at 8pm E/7pm C on GFL.tv. No other wrestling organization on the Independent landscape carves out as much new content as IZW. Developed and cultivated in the Sooner State, IZW is second to none. Be there for every bump, bruise and jaw-dropping moment all of which have made IZW recognized around the world.
To learn more about IZW, visit us at these locations.
Website: www.izwrestling.com
Twitter: https://twitter.com/IZWWORLD
YouTube Channel: www.youtube.com/IZWOklahoma
Facebook: https://www.facebook.com/ImpactZoneWrestling
© 2004-2015 Impact Zone Wrestling. All Rights Reserved.
Website designed and maintained by Wesley Bradfield