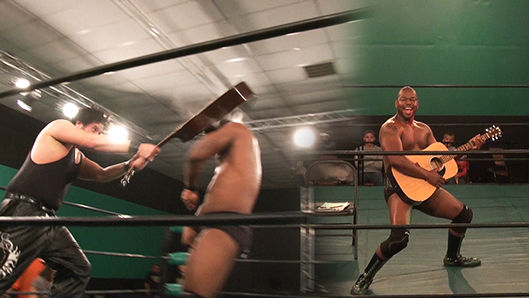 "IZW Adrenaline" is back this Saturday with another enthralling episode of Independent wrestling's finest promotion. As the stakes get ratcheted up each and every week, there's no telling what will go down at the Impact Arena as "Chaotic Christmas" is less than two weeks away and no one is safe. The IZW Title hangs in the balance in a Triple Threat Match, former tag partners are now mortal enemies, a decorated former Champion made his return and much, much more!
"Big Business" Damon Windsor (@DamonWindsor) took out two members of Impact Elite last week in a Triple Threat Match which was more of a glorified handicap match as The Convict and "Larger Than Life" Jermaine Johnson (@JermaineAboutME) went down at the hands and iron will of Windsor (with a little help from a guiltar). Windsor never looked more vicious in the ring as he took a beating but gave an even bigger whooping to his two opponents. Windsor showed the heart of a champion and proved that he is ready for December 21 when he challenges IZW Champion "The Natural Born Leader & Savior of Wrestling" Johnny Z (@NBL_JohnnyZ) and "Worst in the World" Copycat (@CopycatWrestler) for the IZW Championship. Z and Copycat need to be hitting on all cylinders at "Chaotic Christmas" to even be able to keep up with Windsor. If they don't it will be a massacre.
In other news, 3X IZW Champion O'Malley (@IZWHateMachine) returned to IZW and defeated "The Urban Legend" Drake Gallows (@DrakeBmbulmer) in singles competition. O'Malley's match impressed Co-Commissioner Shawn McHale so much that he booked O'Malley in the Impact Division Championship Match with Gallows and current Champion "The Image of Fear" Kevin Morgan (@TheImageofFear) at "Chaotic Christmas". The added dimension of O'Malley will have a resounding effect on the outcome of the match in one way or another.
Once at the top of the IZW Tag Team Division, the East-West Playaz are no more. Soto Miyagi and The Midnite Rider have parted ways and done so with irreconcilable differences. Rider ambushed Miyagi for the second week in a row and it is still a mystery why he turned his back on his former partner in the first place. Miyagi responded by chasing Rider off and out of the ring as Rider was putting the boots to Double D (@IZWDoubleD) after their match. This feud has to end with these two grizzled vets in the squared circle. Could it be at "Chaotic Christmas"?
The Women's Division is also on fire as Champion Miss Diss Lexia (@missdiss_lexia) and Erica (@Lady_Of_Impact) will battle for the Queen's Crown in less than two weeks. Could "The Megastar" Angel Blue (@AngelBlue0830) find a way to disrupt this scheduled singles match and get her pound of flesh. It wouldn't be smart to bet against Blue as ever since she has turned over a new leaf, her intensity and hunger to win the Queen's Crown has been unparelled.
Get your shot of adrenaline with "IZW Adrenaline" every Saturday night at 8pm E/7pm C on GFL.tv. No other wrestling organization on the Independent landscape carves out as much new content as IZW. Developed and cultivated in the Sooner State, IZW is second to none. Be there for every bump, bruise and jaw-dropping moment all of which have made IZW recognized around the world.
To learn more about IZW, visit us at these locations.
Website: www.izwrestling.com
Twitter: https://twitter.com/IZWWORLD
YouTube Channel: www.youtube.com/IZWOklahoma
Facebook: https://www.facebook.com/ImpactZoneWrestling
© 2004-2015 Impact Zone Wrestling. All Rights Reserved.
Website designed and maintained by Wesley Bradfield