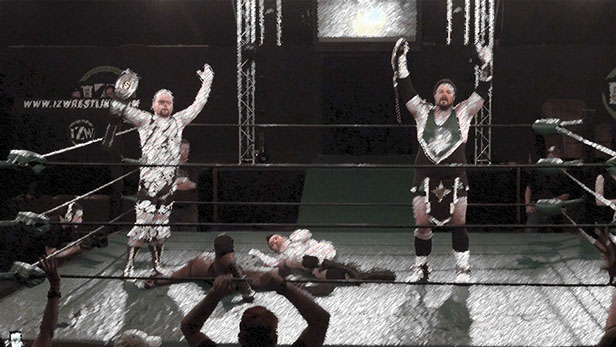 "IZW Adrenaline" returns this Saturday, August 24, with another rollercoaster ride as the #1 Independent organization in North America produces its live 2-hour triumphant broadcast. If you're a fan of hard-hitting, no nonsense wrestling, you can't miss what happens next in IZW on GFL.tv.
After last week's main event, Team Bull: The Bronze Bull (@BronzeBull_AN) & "The Brass Bull" IZW Wrestler (@thegods_bs) made good on their promise by defeating IZW Tag Team Champions, What Wrestling Should Be: "Larger Than Life" Jermaine Johnson (@JermaineAboutME) & "Lights Out" Jordan Jacobs (@JacobsLightsOut) in a non-title bout to earn a title shot at "Redemption" on September 14. "The gods" have predetermined that Team Bull is destined for gold and they punched their ticket last week and have inched closer towards making that dream a reality. Will Team Bull and WWSB have another violent encounter this week leading up to their historic match?
Also last week, Double D (@IZWDoubleD) and Brandon Bishop (@BISHOPACW) worked together to defeat Impact Elite's "The Natural Born Leader" Johnny Z (@NBL_JohnnyZ) & The Convict in tag team action after getting an assist from none other than the #1 Contender to Johnny Z's IZW Title, "Big Business" Damon Windsor (@DamonWindsor). D, Bishop and Windsor form a daunting challenge for anyone in IZW, Impact Elite included. Will these three grapplers' fates be intertwined once again? You better believe that Johnny Z and Madame Commissioner Erica, (@Lady_Of_Impact) will be irate over how last week ended. Double D, Bishop and Windsor better be ready for payback, because it's coming one way or another.
In other news, "The Image of War" Kevin Morgan (@TheImageofWar) took Impact Division Champion Drake Gallows (@DrakeBmbulmer) to the wood shed last week in their non-title match. Morgan had the bout won after a Detonator, but instead decided to cross the line once again by grabbing the Impact Division Title and clubbing Gallows over the head with it numerous times getting disqualified in the process. Was this part of a bigger plan by Morgan to soften up the champion before their eventual showdown when the title will be at stake? Morgan is a disciple of Johnny Z, so you know he's learned a thing or two about psychological warfare from the master. Stay tuned to see where this torrid feud goes from here.
And what's up with "Worst in the World" Copycat? He's still going on and on about taking up for Damien Morte and making "Greatness" Rage Logan pay for hitting Morte in the parking lot in a hit and run several months ago. (A charge that Logan denies and in return blames Copycat for). Will we see these two alpha-males square off in the ring anytime soon? These two wrestlers are two of the brightest superstars in the whole territory and if and when they do meet in a one on one match, they will tear the house down and give the fans something they have never seen. But before that can happen, they need to iron out a few issues. Will Copy and Logan be in the Impact Arena this Saturday? Stay tuned to find out.
Get your shot of adrenaline with "IZW Adrenaline" every Saturday night at 8pm ET on GFL.tv. No other wrestling organization on the Independent landscape carves out as much new content as IZW. Developed and cultivated in the Sooner State, IZW is second to none. Be there for every bump, bruise and jaw-dropping moment all of which have made IZW recognized around the world.
Website: www.izwrestling.com
Twitter: https://twitter.com/IZWWORLD
YouTube Channel: www.youtube.com/IZWOklahoma
Facebook: https://www.facebook.com/ImpactZoneWrestling
© 2004-2015 Impact Zone Wrestling. All Rights Reserved.
Website designed and maintained by Wesley Bradfield