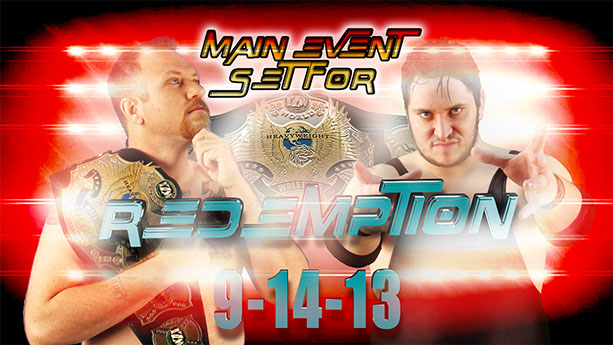 "IZW Adrenaline" returns this Saturday, August 10, with another rollercoaster ride as the #1 Independent organization in North America produces another live 2-hour masterpiece. If you're a fan of the squared circle, you can't miss what happens next in IZW on GFL.tv.
Last week, "Big Business" Damon Windsor became the #1 Contender to the IZW Championship where he will face IZW Champion "The Natural Born Leader" Johnny Z at "Redemption" on September 14. Windsor has gone through hell and back since being kicked out of Impact Elite a couple months ago and has clawed his way back to the top of the mountain with some gritty performances capped off by last week's victory against Brandon Bishop. Windsor is looking to make Z pay for everything he has endured in the recent past, including multiple gangland style beat downs, humiliation and more. Windsor prides himself on his intellect and resilience and landed a crucial blow against Johnny Z by scoring the all-important final pinfall at "Evolution" in the Impact Chamber Match. Now that his match is set in stone, stay tuned to how it plays out in the next few weeks as these two juggernauts of wrestling have their sights set on each other.
In other shocking news, Brandon Bishop and Double D's feud has only escalated since "Evolution" and these two found themselves throwing haymakers during last week's broadcast. What will these two alpha males do next? In other news, Madame Commissioner Erica has been in a struggle for her very dominance as the #1 Woman in IZW as Angel Blue has been hot on her heels for weeks. Erica has been squeaking by using her knowledge of the rules more than her grappling prowess as she's defended her Queen's Crown two times in a row by purposely getting counted out. Do these women have another showdown with destiny?
In other news, the Impact Division Championship is still being held up by "The Image of War" Kevin Morgan as he stole the title two weeks ago in the jaw-dropping Triple Threat Ladder Match between Champion Drake Gallows, Copycat and Phoenix. What's the status of the title? Does Gallows have a plan to recover his stolen belt? The Impact Division is off the hook right now with so many feuds going on all at once. Eventually they all lead to that 20 lb of gold that is currently wrapped around Morgan's shoulder. What's next for the title and this division?
Are you tired with today's lackluster wrestling? Get your shot of adrenaline with "IZW Adrenaline" every Saturday night at 8pm ET on GFL.tv. No other wrestling organization on the Independent landscape carves out as much new content as IZW. If you're looking for a rough and tumble style of professional wrestling look no further than IZW. Developed and cultivated in the Sooner State, IZW is second to none. Be there for every bump, bruise and jaw-dropping moment all of which have made IZW recognized around the world.
To learn more about IZW, visit us at these locations.
Website: www.izwrestling.com
Twitter: https://twitter.com/IZWWORLD
YouTube Channel: www.youtube.com/IZWOklahoma
Facebook: https://www.facebook.com/ImpactZoneWrestling
© 2004-2015 Impact Zone Wrestling. All Rights Reserved.
Website designed and maintained by Wesley Bradfield